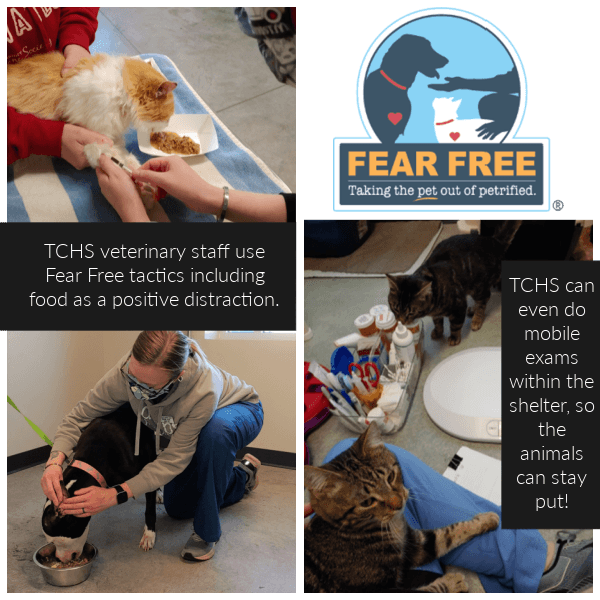 Does your cat run and hide as soon as they see the carrier? Does your pet get stressed when you take him/her to the veterinary clinic or groomer? Is it impossible to perform a nail trim on your pet at home?
Do you know why pets may react these ways during certain events? Fear, anxiety, and stress are the reasons. Unfortunately, signs of fear, anxiety, and stress (FAS) in pets are often labeled as unsocial or bad behavior.
When we view FAS as emotional responses to events or anticipated threats rather than an intentional behavior, we can look for positive ways to help our pets feel at ease and therefore behave in more positive ways.
'Fear Free' practices
Fear Free is a program founded by veterinarian Dr. Marty Becker in 2016 that educates veterinary professionals and pet experts on the importance of emotional and mental health along with physical health and the overall well-being of animals. It is a holistic approach to veterinary medicine, animal welfare, and pet care. Fear Free practices strengthen the human-animal bond and result in stronger connections between pets and the people who love them.
There are continuing education and certification programs for veterinary and other pet professionals, a Fear Free shelter program, and a plethora of resources for pet parents available at fearfreepets.com.
What we're doing at TCHS
Many Tri-County Humane Society employees have completed the Fear Free shelter program, which offers a wide variety of information on how to keep pets in the shelter as comfortable as possible. Stress-reducing environmental enrichment such as the use of calming pheromones and soothing music have been incorporated into pet areas. Behavior programs that aim to socialize and help pets feel safe and relaxed while at TCHS are underway. We also take a gentle approach to handling animals.
Our veterinary team members use Fear Free approaches to handling, examining, and medicating to reduce stress during a pet's stay. We strive for cooperative care rather than forced treatments. The use of treats, toys, catnip, affection, and other distractions make things like routine nail trims or blood draws much less scary for the pets in our care. Animals in emotional distress may receive anti-anxiety medications and treatments as approved by our veterinarians.
Additionally, two of the TCHS veterinary technicians (myself included) are Fear Free Certified Veterinary Professionals, meaning they've dedicated their care to include Fear Free approaches and seek annual continuing education on the topic.
Although we can't take away everything that may stress an animal while in the shelter, we will continue to make changes that we can to improve their comfort during their stay. It's always our priority to reduce fear, anxiety, and stress levels of all the animals we serve. Every pet deserves safety and security!
Visit fearfreepets.com for resources or to learn more about the program.
Rose Hegerle, a Certified Veterinary Technician, is TCHS' Animal Care Manager with 15 years of experience in shelter and clinical settings.