Book Buddies Reading Program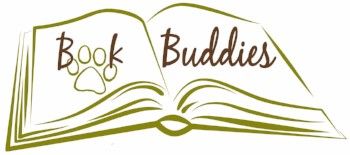 NOTE: THIS PROGRAM IS ON HOLD DUE TO COVID-19.
Young readers go through an initial training; after that they're free to read during designated reading hours. There is a one-time $5 cost to enroll in the
program, but if it's a hardship just talk to the volunteer coordinator.
We want to make sure this is open to everyone who wants to read!
---
Do you have a young one in your household who is a fan of animals? What about a child who loves reading – or needs a little practice with reading?  Tri-County Humane Society is proud to introduce Book Buddies, a program geared toward helping children and animals.
Book Buddies provides a non-judgmental audience for the young readers; after all, the dogs don't care if a word is mispronounced or if the reading is done slowly. National studies done on similar programs have shown youngsters' reading skills significantly improve thanks to practicing with animals.
But the readers aren't the only ones who benefit. Their presence and soothing words help calm the animals, some of whom can be stressed by being at the shelter.
Registration fee to attend the orientation and get a Book Buddies pass is a one-time cost of $5 per household.  This program is intended to be open to all, so if this fee is a hardship, please ask about a Book Buddies program scholarship.
---
Questions?  Contact:
Kate Kompas, Volunteer & Humane Education Coordinator
(320) 252-0896 Ext. 27
volunteer@tricountyhumanesociety.org
---
Book Buddies Guidelines
The program is intended for ages 5 to 15, but anyone is welcome as long as they follow protocol.
All participants must attend a 30-minute program orientation prior to beginning the program.  Adults must attend orientation, too.  After that, Book Buddies participants are welcome to bring in favorite books to read aloud to dogs or other animals in our shelter during designated hours.
Designated reading hours are 4 p.m. to 6 p.m. Mondays and Wednesdays, and 6 p.m. to 8 p.m. on Fridays.
Adults must accompany readers at all times during designated reading hours.
Youth will wear a Book Buddies nametag at all times and sign in before they read. They must sign out, too.
A maximum of three youth are allowed per room at one time. If there is a line of youth waiting, reading time will be limited to 30 minutes per youth.
Youth are asked to follow shelter rules at all times as well as the guidelines outlined in the Book Buddies orientation.
Scheduled orientations are limited to 10 participants at a time (including adults).