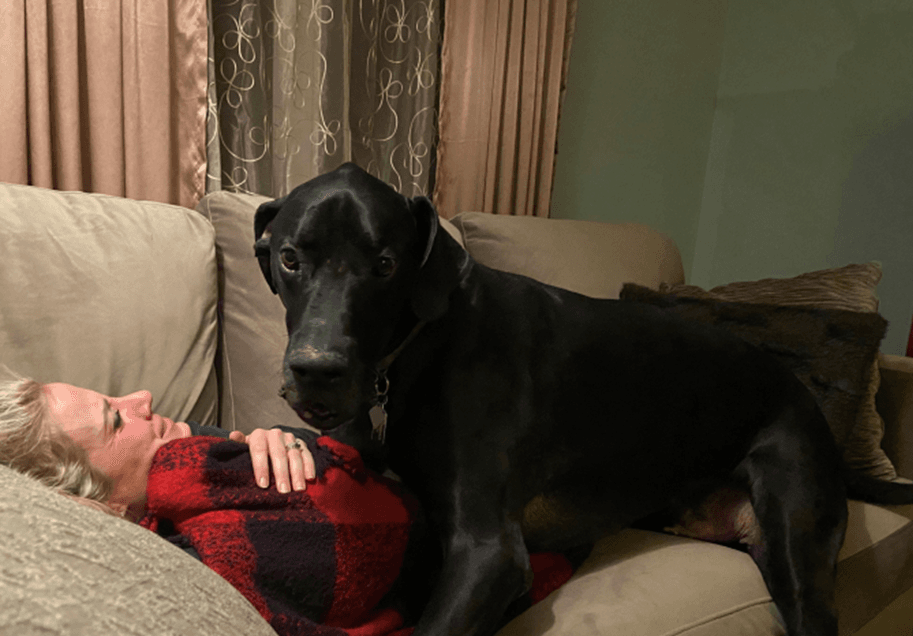 Tri-County Humane Society's customers include not only adopters, of course, but those who need our surrender services. As a team, we strive to have compassionate attitudes toward those who have to make what for some is a painful decision. Here is a rehoming story that one of our board members offered to share. 
**
By Kelly Sayre
Guest columnist
Growing up, I dreamed of becoming a veterinarian. My grandmother bought me a book on James Herriot, and I couldn't wait to grow up and help animals.  Then sadly, our family had to put down our beloved dog Rusty. I knew I would never be able to do that to an animal and my dream career changed. However, my love for animals remained strong.
My freshman year of college, it wasn't feasible for me to have a pet. Instead, I volunteered to walk dogs at the local humane society in Wisconsin. It was great exercise, and I got my fill of puppy kisses on a regular basis. I couldn't wait to have my own place so I could get my very own dog! Not even two years later, my boyfriend and I purchased a German shepherd puppy, and we named him Harley.
1 active dog
True to his breed, he was a smart cookie and needed a lot of interaction and playtime to keep out of trouble. When my relationship broke up, I kept Harley because I couldn't imagine being without him. But with my independence came more work and less time to spend playing with him. I hate to admit this, but I didn't have the ability to care for him in the way a young, energetic working dog needed. He spent most of his time in an outdoor kennel.
My boss at the time knew how much I loved Harley, but he also knew how little time I was able to spend with him. He had a caring but frank talk with me one day after overhearing me share some of the mischief Harley had been getting in to. He pointed out that I was not being fair to Harley and giving him the quality of life he deserved. Not to mention I had been considering moving out of state and trying to find an apartment that allowed big dogs was nearly impossible. He suggested I surrender Harley to Tri-County Humane Society to give him the proper chance at being adopted by someone who could give him the attention he needed. I had all the love to give him, but not the time he deserved.
Seeking some crucial support
After a tear-filled weekend, I brought Harley into TCHS for surrender on a Monday. The staff was so kind to me and promised they would make sure he got adopted by a good family. I felt awful, but I knew it was the best thing I could do for Harley. By Friday of that week, I couldn't take the sadness over not having Harley. I grabbed his old leash and went to TCHS, determined to re-adopt the dog I had surrendered only five days prior. When I got back to the kennel area, Harley was gone. His information sheet on the kennel door said he'd been adopted. Tears started forming in my eyes and a volunteer asked if I was OK. I shared my story and she gave me an empathic smile and told me Harley had just been adopted that morning. A man who had some property and other dogs had come into the shelter and adopted him.
Something about knowing Harley went to someone with dogs he could play with and plenty of room to run made my sadness a little lighter. As hard as it had been to say goodbye, Harley was a good boy who deserved the best life. I never forgot the kindness and care that TCHS provided me and my first furbaby. I have proudly served on the Board of Directors for TCHS for the past six years to continue supporting the work of the wonderful staff and volunteers.
TCHS Board Member Kelly Sayre is the founder & president of The Diamond Arrow Group. Any semblance of a peaceful moment is often interrupted by her two young boys, her studly husband, or their 180-pound Great Dane (adopted from TCHS 2018!).
Rehoming pets
Tri-County Humane Society does its surrenders by appointment. To get cost information or for details, call us at 320-252-0896.