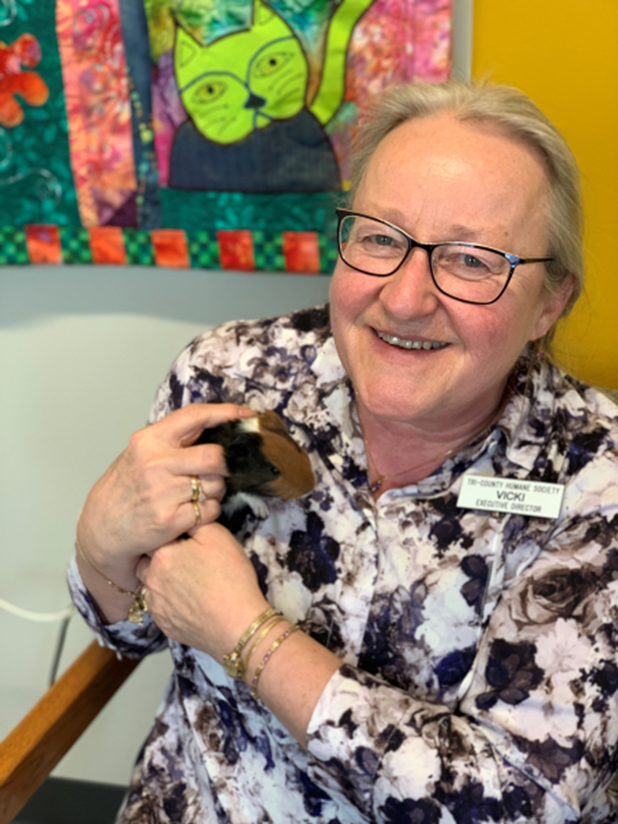 When we moved into our new shelter last fall, we knew many things would change. They would have to, by nature – we're in a facility with twice the square footage of the building that served us so well for 30-plus years! We approached the change with excitement and some anxiety – while we needed our facility to be larger for the animals and staff/volunteers, we didn't want to lose our "Mom and Pop" feel. It's the personal connection with our customers, our volunteers, our supporters, that has defined us.
Of course, with a bigger building, it takes a lot longer to find one another than it did in the last one. (We invested in walkie-talkies early!) But we've quickly found a very big plus with this new space: We can help so many more animals! (And by extension, people, too.)
As we celebrate all the reasons we love our new shelter, I'd like to bring your attention to a subject you probably can't recall me highlighting in the past. In the "old days" (which is only about seven months ago!), we were very limited on how many animal transfers we could take in from other shelters and rescues. It's time to share a stunning statistic: By the end of April, we took in 400-plus transfers. In ALL of 2020, there were 297 transfers. Now, we always help our neighbors first – Minnesota/Upper Midwestern animal welfare organizations are among our top priorities. When our Upper Midwest partners are taken care of, we can expand our reach to help our friends in the Southern states.
Believe it or not, we've even transferred in several cats so far this year – something that would've been nearly unheard of in the days of our old building. It's no secret there's a cat overpopulation issue in the Upper Midwest, and we already take in many more cats than dogs. In the old building, while we worked hard to place cats, we didn't necessarily "go looking" for extra ones – well, this year we've been able to do that through our transfers! We're so very grateful and fortunate there's still a high demand to adopt, and people come looking to us to help them grow their families by four paws.
This new building is giving us so much; more room for people and animals, bigger and better medical space, and a welcoming place for people to meet and greet their new family member. And while we may need walkies now, we're never going to lose that personal, caring connection with our community. That bond means the world to us and makes us who we are.
We're just delighted that now we have the ability to help even more people (and animals) far beyond our three-county area. 
Thank you for helping us extend our reach and abilities!
Vicki Davis, CAWA
---
TCHS Executive Director Vicki Davis poses with Freddie, a baby guinea pig. Naming rights for Freddie and his siblings were an online silent auction item for our Wine, Kibbles & Bids fundraiser. (The other siblings were named Bowie, Stevie, and Dolly in honor of the 1970s music icons.)
Freddie was adopted the same day that this picture was taken!