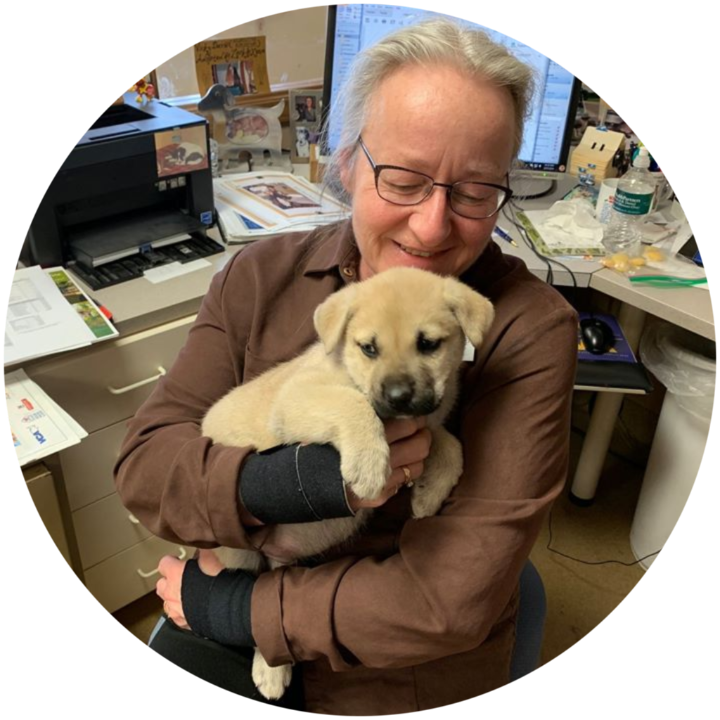 Dear Friend of Animals, 
I don't think most of us had any idea how drastically everyday life would change in response to the COVID-19 crisis. I know I didn't. Playing the hand we've been dealt, Tri-County Humane Society worked creatively to find the right balance of keeping staff and volunteers safe while still being available to take in strays and other animals needing a place to be and then rehome them.  Seems like as soon as we'd find a rhythm, things would change – therefore so did we. I take my hat off (not my mask though!) to our team with boots on the ground at the shelter. Pandemic or not, there's always going to be animals needing our help, and one such one was Mitzi. This kitty had been in and out of the shelter with reports of having a bit of cat-titude following her. Animal care staff noticed she had an abscess on her toe. Taking an even closer look with the help of an X-ray, it was determined she needed a surgical procedure to remove a bone fragment from being declawed early in her life. That's probably why she was so crabby – she was in pain! Mitzi's attitude improved greatly and she was adopted in early May. Last report is she's doing great and her adopter adores her.  Thank you, your support is why I can tell that story!  
The animals at the shelter (and in our homes) are blissfully unaware of the threat that's out there. You can look into their faces and see the same carefree expression they had before this all started (albeit a little more tired from nap deprivation!) They're amazing beings.  
While many of our programs are currently at a standstill, our adoptions have remained fairly steady. Remarkable, considering our hours are restricted and customers are allowed in to adopt only by appointment.  I ask that your support also remain steady – we already know how remarkable you are! Thank you for sharing our love of animals and answering the call to help them.  
On their behalf,  
Vicki Davis 
"What we have done for ourselves alone dies with us; what we have done for others and the world remains and is immortal." - Albert Pike