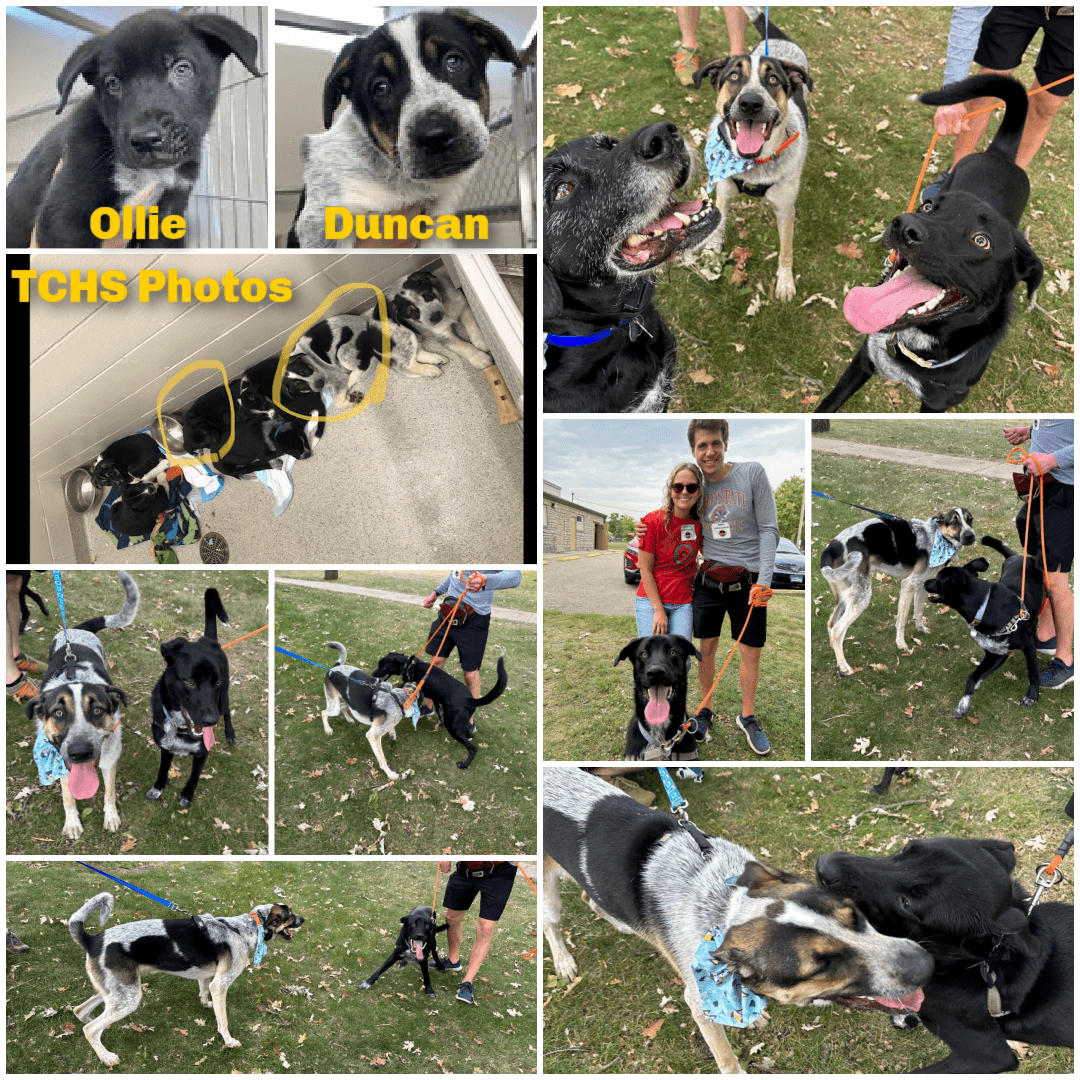 Our Companion Walk: Furrassic Park on Sept. 9 was a wonderful day for our animals – we raised about $40,000 for our shelter! (We are so grateful to everyone, and we mean everyone, who helped make it a success.)
There are a lot of fringe benefits to events such as Companion Walk besides the financial ones. Take this adoption story – it's a family reunion none of us saw coming! (This is a good story, so grab your cup of coffee – or a bowl of popcorn, depending on when you read it.)
---
"We brought Ollie (formerly known as Onyx) home in December and he was only 10 weeks old. His biological family is from the Leech Lake area. Ollie was the last of his seven siblings to be adopted, and we feel so lucky for the opportunity to welcome him to our family. He loves playing with other dogs and going on adventures such as a hike or a stroll through a pet-friendly store. His new older brother, a tolerant cat named Adriel, has been a good challenge for Ollie to learn how to be gentle and that sometimes it's okay to take a break from playing. He is a sweet, energetic, and loving pup and we can't imagine our lives without him!
A friend of ours (Tracey, a longtime TCHS dog walking volunteer) fostered Ollie's biological mom (known as Lady at TCHS). We are thrilled to know that Lady was adopted and in a loving home. We always wondered if we would ever meet any of his biological siblings that still lived in the St. Cloud area …until the TCHS 2023 Companion Walk when we met Duncan!
Duncan was the second-to-last puppy from the litter to be adopted, so he and Ollie spent quality time together in the kennel. We had pictures of the litter before they were all adopted so we knew the other puppies' coat colors and prints. At the Companion Walk, we saw another dog that was about the same size as Ollie with a unique print that matched some of his siblings. So we had to ask. Sure enough, it was Duncan! Duncan lives with a loving family and has a dog sibling named Ruger to show him the ropes.
Ollie and Duncan sniffed and played like old times. It was such a fun experience reuniting them. Since the Companion Walk, we have already met Duncan and his family at the park to enjoy another play session.
Thank you, TCHS, for facilitating our adoption of Ollie and for loving and caring for animals in need."
---
"The pain of parting is nothing to the joy of meeting again." Charles Dickens