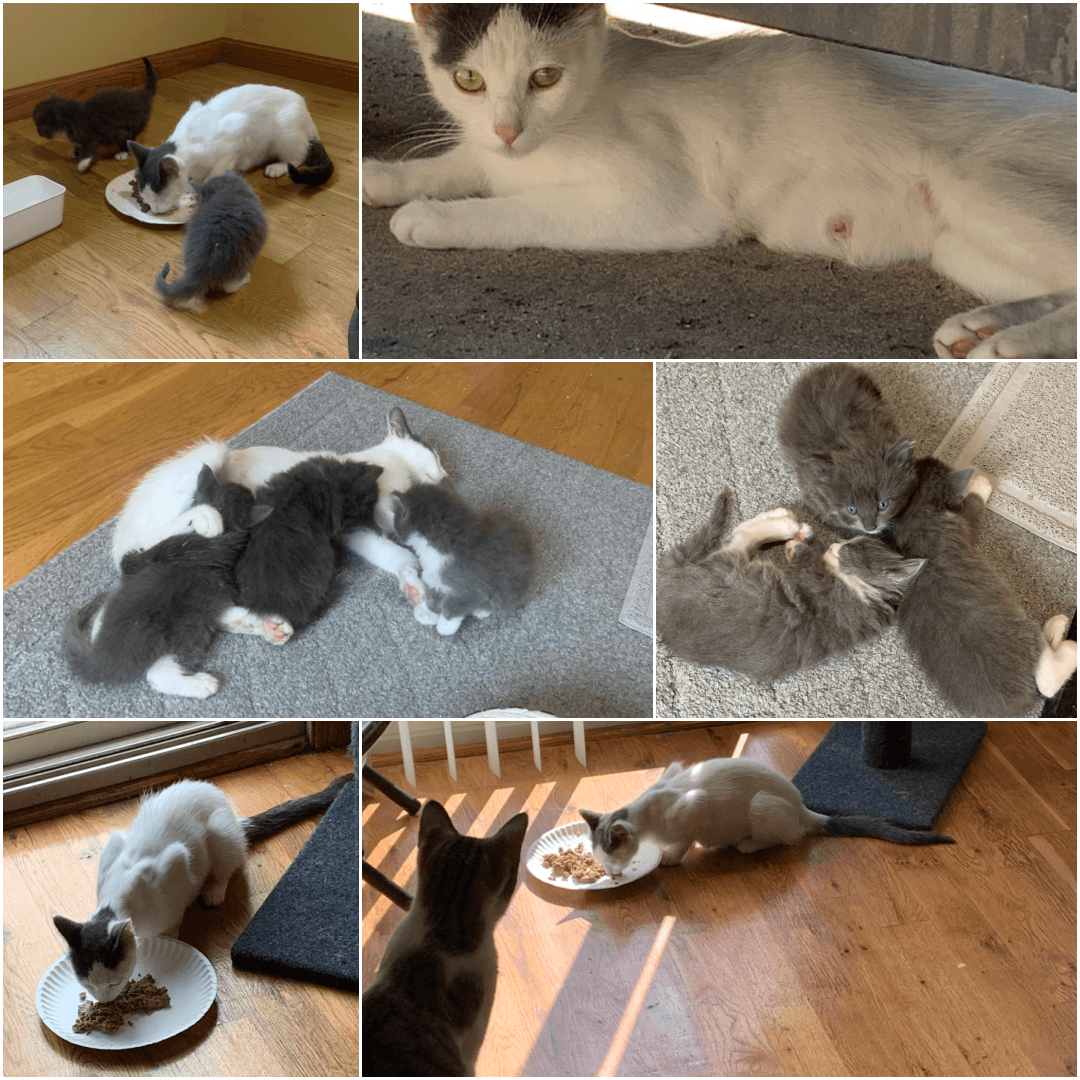 Not all animals coming to Tri-County Humane Society have a straight path to the adoption floor. In some cases, like this one, it took the help of an animal lover to get the wheels in motion and patience to see it through. Here is Nancy's story about how she answered the call for help from an unowned cat and her babies.
---
"In June of 2022, I noticed a young white cat, with a grey tail and grey spot on top of her head, roaming my neighborhood. I tried to get her to come to me, with no luck, because I thought she was pregnant. I didn't see her for a couple of weeks, but at the end of June, I was cleaning my garage and she came in. She was extremely skinny, but I was able to tell she had given birth! Over the next couple of days she came around again, and one day I gave her wet food (I also let her keep the chipmunk that lived under my deck, I was torn, but I knew she had babies). After I gave her wet food, she came back 5 times over 2 days. The last time, I was sitting outside with her, (she was loving pets but not being held) and I said "mama, will you take me to your babies? I want to help all of you". She got up and walked away, then turned around and waited for me to follow her. I didn't get too close, I didn't want to scare her, but she stopped and waited for me 3 times. She took me across the street to an apartment building parking lot, and sat down in front of a red car. A man who lived there saw me and came over to talk. He had also been feeding Mama, and he told me she ate the chipmunk on his patio. He said he had tried to find the babies with no luck. Mama wandered off, so I went home. The next morning, the same guy knocked on my door to let me know he had found the babies. They were in a bush directly behind the red car!! I was blown away. She understood me and took me to her babies!
I am a cat mom (I have adopted from TCHS on a couple of occasions, my newest baby has been with me almost a month) so I know how incredibly smart cats are. I still have a hard time believing Mama not only understood me, but actually took me to her babies.
They were brought to TCHS in July of 2022 and they went into foster care. Mama was malnourished, but she had done an awesome job caring for her babies. In October, I believe it was, I happened to be on the TCHS website, and I saw Little Mama, going by Little Miss. I do know she and her babies were adopted. Mama was a little feral, but she was also sweet and wanted love. I have a feeling she settled in and has become a love bug!
Thank you to whomever adopted her and the babies, I'm so glad I was able to play a part in getting them off the street and into loving homes!
And a HUGE thank you to TCHS for all you do for all the fur babies!"
---
"Be kind and merciful. Let no one ever come to you without coming away better and happier." – Mother Teresa