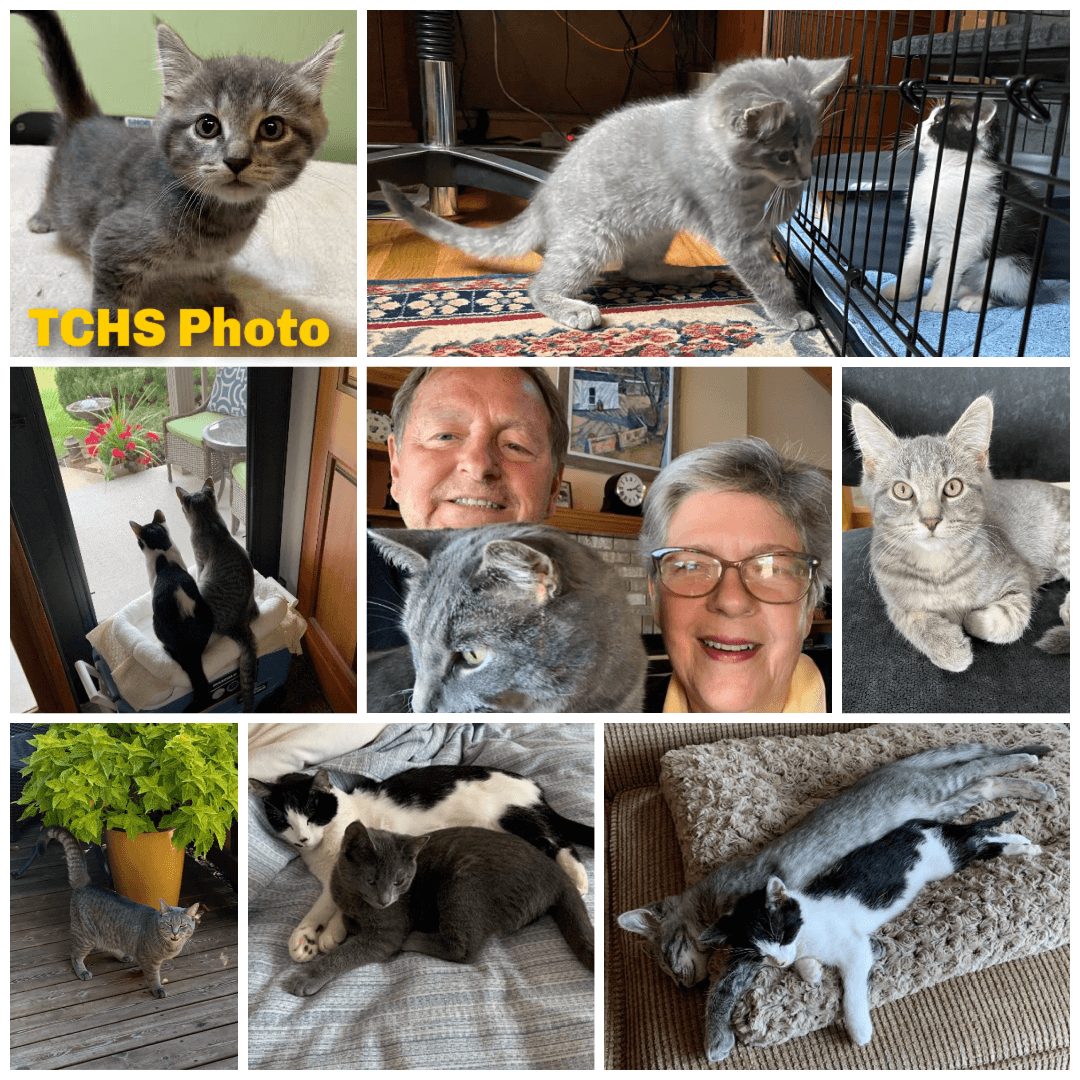 Read this amazing adoption story:
---
In May of 2020, during the first deadly surge of the pandemic, we decided to adopt a kitten from Tri-County Humane Society (TCHS) as "therapy" for the anxiety and stress of the time. The very first time we saw Darwin (TCHS's name), we fell in love with him. He looked straight into our eyes and reached out to us with his paw. Although someone else had already put a deposit on Darwin, my husband insisted we also put a deposit down for him, and was emphatic that "He is meant to be our cat!" And sure enough, in a couple days we were notified that Darwin was available. We renamed him Willis, and found that he was a very lively and intelligent animal. Soon it became clear that we needed to add another kitten to our household, so we adopted Lenny from TCHS and they became best buddies. The kittens were definitely therapeutic for us; they made us laugh with their antics, and were mostly sweet and well behaved. We live in a semi-rural area so they were allowed to roam outside during the daytime. Since they were both neutered and microchipped at TCHS, we weren't too worried about them. But sometimes Willis wouldn't come in and would stay out all night. This always worried us because there are coyotes and other critters in the woods. He would always return the next morning though!
In the fall of 2021, when travel restrictions were eased, we decided to take a trip to California to visit some family members we hadn't seen for a while. Our daughter, who lives in the twin cities area, offered to keep the cats while we were away. We were happy to leave the cats in her care. However, there was some renovation work being done at her house, with lots of hammering, drilling and other loud noises, plus plastic sheeting in one area. Willis was very upset by the noise and commotion, and on Halloween he somehow escaped. We think he decided to just go home on his own. But Willis didn't know he was 60 miles away from home. For weeks afterward, we all searched for Willis, put up posters in her neighborhood, left food out and tried everything to find him, to no avail. We grieved our loss, especially my husband who was his special person. I notified all the animal shelters in the region, and listed him as "lost". My husband still insisted that Willis was meant to be our cat and surely he would somehow return.
Around Christmas time, our daughter called to tell us she had a Christmas miracle! A family that lived on a farm near her house had found Willis in their barn! She sent photos of a snuggly Willis and we were excited to see him again. But when our son stopped by to see him, our hopes were dashed when he said, "It looks just like Willis--except for the balls." The cat was definitely not Willis. The farm family was glad to take him back with their barn cats.
That was a very cold and bitter winter, and we thought about Willis every day, wondering if someone had taken him into their home, or worse, if he was suffering outdoors. Our prayers--to find him, or at least to know that he was okay--went unanswered.
Eventually, we decided to adopt another kitten from TCHS, as Lenny was lonely and anxious without his buddy Willis. Lily was a sweet addition to our family, and she and Lenny soon became fast friends.
A year passed. In December of 2022, one evening our home phone rang. When we answered it, a young woman said, "This is the Oakdale Emergency Pet Shelter calling. Have you lost a cat named Willis?" I nearly fell over. She continued, "A good Samaritan brought Willis to the shelter and we obtained his name and your phone number from his microchip. He is not sick or injured, so we can't keep him here but you can contact the good Samaritan to arrange pick up." My husband and I could hardly believe what we were hearing! But we obtained the name and phone number of the "good Samaritan" and quickly made arrangements to meet the next day.
The person who found Willis lived within a mile of our daughter's house. She had pet cats of her own, and had put a cat tree outside in her yard. She noticed on her video cam that there was a different cat sleeping there at night. She had approached it, but the cat ran away and hid under a car. She kept trying to approach it, using food as a lure. Eventually she was able to capture the cat, place it in a crate and took it to the shelter. This time, it truly was our Willis, miraculously alive and with us once again!
We took Willis right away to our local veterinarian to be checked over and update his vaccinations. The vet affirmed that his thick fur and well developed muscles were like that of a cat that has been living outdoors. She also noted that he was a healthy weight, not too skinny, so he must have been a successful hunter and found shelter somehow. I guess it was a good thing that Willis had often stayed out overnight, as it had given him practice in how to survive!
Willis is now home with us, and adapting to life as a housecat with two other cats as playmates. He seems to recognize us and our home, but he shows little interest in playing with the other cats or going outdoors. It is cold and snowy outside now and he has probably seen enough of that! He is gradually adapting to the other cats, and I suspect that when springtime finally arrives, he will be happy to go outside and play once again. For now, we are just thankful to have Willis back with us. We so appreciate TCHS for making sure that every cat who is adopted is microchipped and neutered. Without that, we would have probably never seen Willis again. In particular, we are grateful for the kindness of the young woman who found Willis and was wise enough to bring him to a shelter to be identified.
Maybe my husband was right all along-- Willis was meant to be with us.
---
"As surely as there is a voyage away, there is a journey home." Jack Kornfield