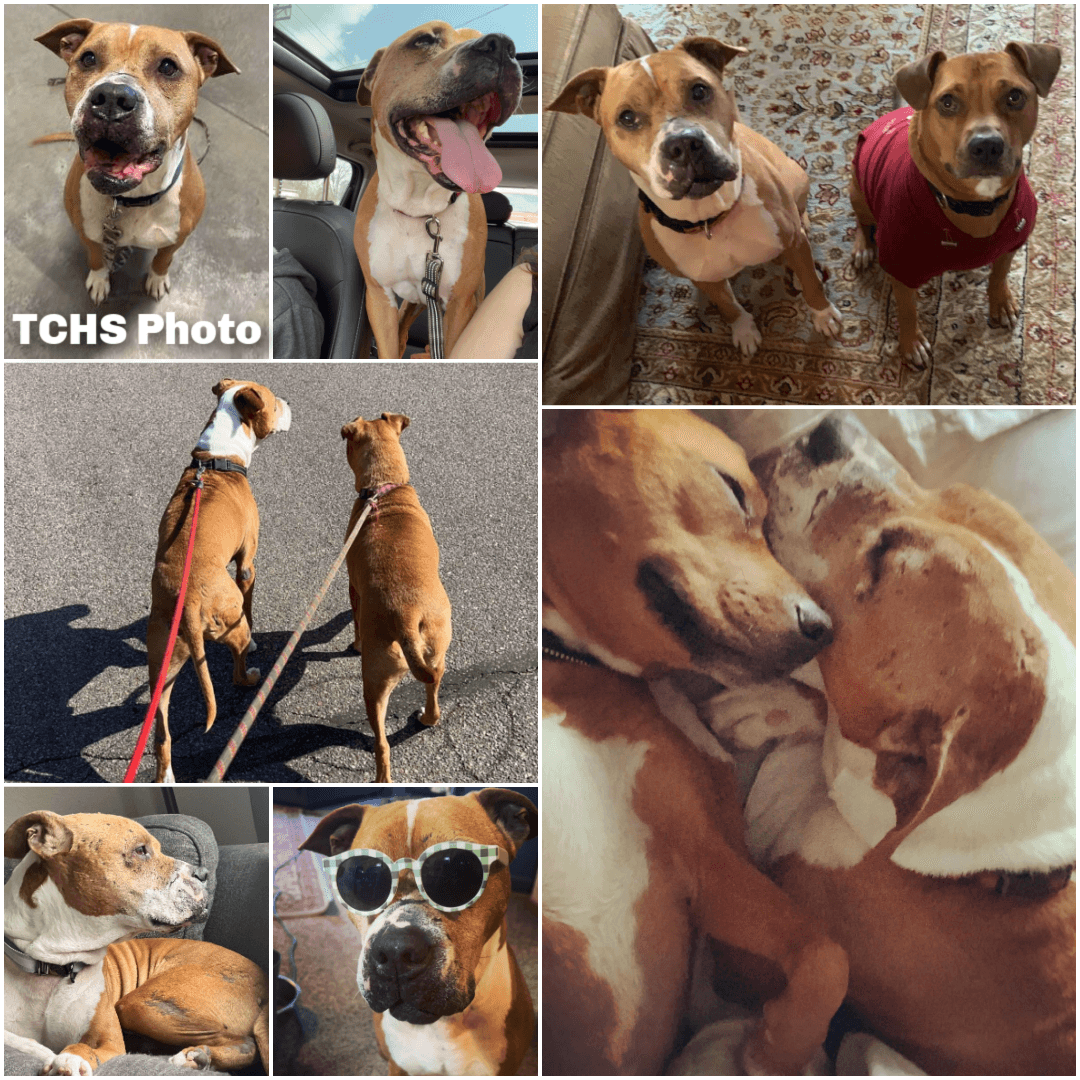 Merry Christmas weekend to all who celebrate! This time of year lends itself to reflection and gratitude. We hope you've enjoyed 2022's adoption stories. We look forward to filling next year's Fridays with many happy stories to come and we're delighted we have so many to pick from!
This tale is a special one, one that we've been saving to brighten moods even during the busiest time of the year. It's about a shelter dog named Thomas who came to Tri-County Humane Society with scars, both physical and emotional. He had been rehomed a few times in Minnesota after reportedly being adopted out of state. We'll let his new human tell the rest:
---
"Prior to November 13th, 2021, my resident pup Tullamore and I were doing great - we were a fierce twosome. After almost two years together, we never thought we would have time or energy for another dog in the house; one Pit is a handful on its own, and Tully loved being the center of attention.
But the day I met Thomas, everything changed. I was just making the rounds at TCHS on a stressful day, wanting to give some puppies love and I saw this itchy old man with the saddest, most loving eyes. You could tell he had been through a lot in his life and could use some attention. So before a volunteer named Kevin could give him a bath, I asked if I could meet him. And as they say, the rest is history. I knew that this handsome old man belonged in my heart and home, and Tully seemed to agree.
The next day, in their first face-to-face meeting, Tullamore and Thomas sniffed each other and immediately were friends, Tully taking Thomas under his wing, showing him all the special spots in the neighborhood. Upon entering the house for the first time, Thomas rolled around on the floor, farted a few times (these would become themes), and then snuggled up with his new brother for a much-needed nap.
See, Thomas hadn't known a lot of stability. … He was scared of other dogs, hesitant around men, and didn't trust the world to treat him right. People would look at him and think he was so scary. They would see his scars and his nervousness and pass him by. … But the second I met him, I knew all he needed was unconditional love and lots of rest.
One year later, Tommy is loving life. He has shed his scared and tormented shell. He has learned manners, learned how to wrestle, and loves to play tug-of-war with his brother (even though holding on to the rope takes skill with only his back teeth intact). He gets younger and more puppylike by the day, and he steals the heart of every person he meets, giving them kisses and rolling on his back for belly rubs.
Thomas is the ultimate snuggle bug, preferring to live life in a sweater, with a plush blanket or pillow and his mom or brother to cuddle up to. Whenever possible, he loves to lay on the balcony and watch the birds, remaining completely unfazed by them swarming him or landing on him.
And don't you dare say the words 'CAR RIDE' around him unless he and his brother are going somewhere fun, preferably a drive-thru for a pup cup and nuggets or to stop in to visit his friends at TCHS.
One year after bringing Thomas home, I couldn't imagine our life without him. He has taught me so much about love, forgiveness, and resiliency, and he brings so much joy to my soul every day. … Thanks to (TCHS staff and volunteers), Tully and I have the best friend we could hope for, getting to wake up every day to the love and joy this handsome man brings."
---
"You can't change a dog's past, but you can rewrite the future." Agnes Carass