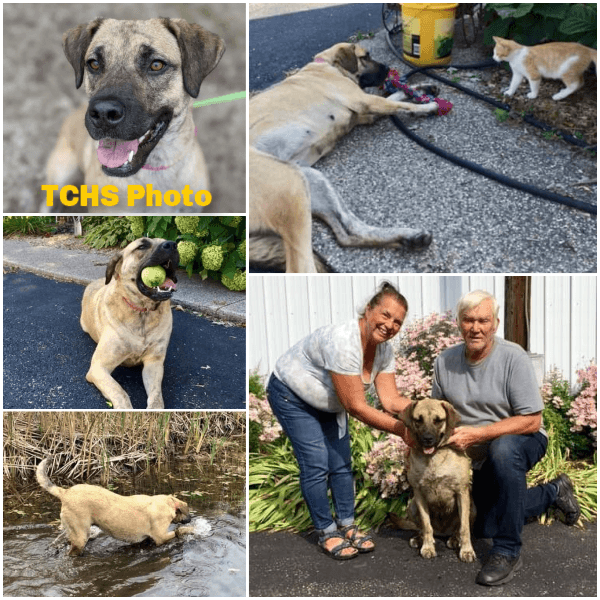 You can call this story our own little Christmas miracle – the tale of a longtime shelter dog who finally found her niche at a farm!
This adoption story is about a pup who will probably be recognizable to anyone who spent some time on our website or Facebook page in 2021. Winnie was brought to the shelter as a transfer from another agency in early April. The almost 3-year-old dog was adopted then returned four times before she found her family, so she spent almost four months (on and off) with us before finding her home in August. Now, Winnie is a country dog! This is a setup that surprised many of us at the shelter, because we weren't sure how Winnie would do with other animals (she never seemed to like the other dogs at TCHS). Well, Winnie is loving her new life! She was visited earlier this year by a TCHS volunteer/foster who connected with her adopters; this is what he shared (with Winnie's new family's permission).
---
"She really did find the right fit this time, and she has really amazed me with how well she does with all the animals.  I never would have expected cats of all things would be her friends.  There are 10 cats, 45 chickens, five horses and two turkeys she calls friends here.  She does like to steal the cats' buttermilk, but she does help with the chores each day, so she earns it."
---
Winnie's new family wanted to pass along they were especially thankful to TCHS super volunteer Pam Gacke, who went the extra mile when showing them Winnie. Winnie is proof that every dog can find the right home, sometimes it just takes a little more time and effort.  
Merry Christmas to all who celebrate! Something we all can share and celebrate is adoptions like this - and thank you for the role you play in making all of our Fridays feel good.