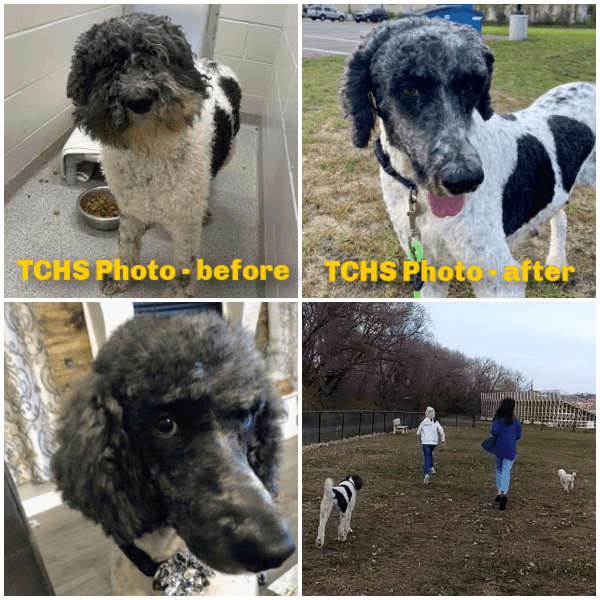 At Tri-County Humane Society, we're thankful seven days a week, 365 days a year. But we are especially thankful when we hear from adopters who took a chance on a dog who was a diamond in the rough – and they're now seeing the true gem they adopted. We think you'll love this adoption story about a poodle named Jane who came into the shelter in relatively rough shape.
Jane was sweet but very under socialized. Through the work of staff and volunteers (including groomer Shelby, who gave her a makeover), Jane made baby steps into looking and feeling better. She was adopted in late September, a few weeks after she arrived at the shelter. Here's what her new family has to say:
---
"We have been wanting to add a rescue standard to our family for quite some time. When Jane became available, we knew it was meant to be.
"She is enjoying the comfort of living in a house, going on walks and acclimating to her new family, including our other rescue poodles. … She is becoming more and more socialized and is slowly learning to trust us. Jane loves having her ears massaged, playing with toys, exploring, going for car rides and lounging on her new comfy bed. She's such a sweet and smart girl, we love her so much.
"Thank you TCHS for all you do to give animals like Jane a chance for a happily ever after."
---
Thank YOU to Jane's new family, as well as everyone who adopts, donates, volunteers, and fosters for TCHS. You make it easy to be thankful.