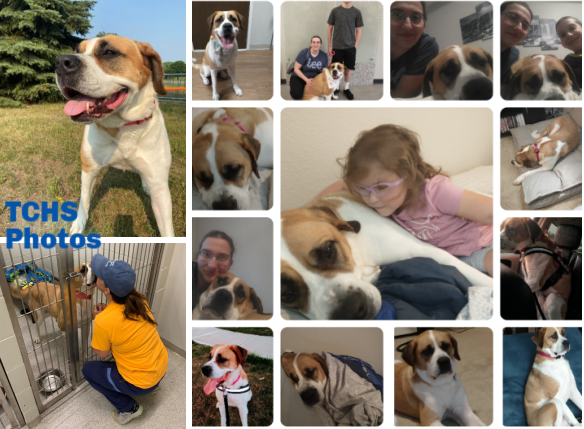 Sometimes it's tough to see a certain animal wait longer than most for a home. The staff and volunteers know they're all great animals; they just need a chance to find the right person.  
Kuda is a 3-year-old St. Bernard mix who came into Tri-County Humane Society in mid-April. Despite her intimidating, large frame, Kuda was a big baby. (We mean that with love, Kuda.) She was fearful of just about everyone at first, so certain TCHS staff members took extra time with her to gain her trust. It was a bit before she was even available for adoption, as select staff and volunteers kept working with her. The staff members whom she trusted soon learned that Kuda was nothing but a big love bug.
Kuda caught the eye of a family who was looking to adopt, but they knew that with Kuda, it would have to be a slow and steady process. They set up multiple appointments to get to know her better – and she got to know and trust them. Kuda was finally adopted in July (so you don't have to look back – she came to us in April), and she's doing great in her new home. 
---
"She loves to go to the park and is doing really well meeting new people and other dogs. She is such a big snuggler and shows so much love that she melts my heart! She sure has made herself at home (from the very beginning) and is learning more and more every day. Thank you everyone at TCHS for taking such great care of Kuda until I could bring her home. Kuda and I love each and every one of you!"