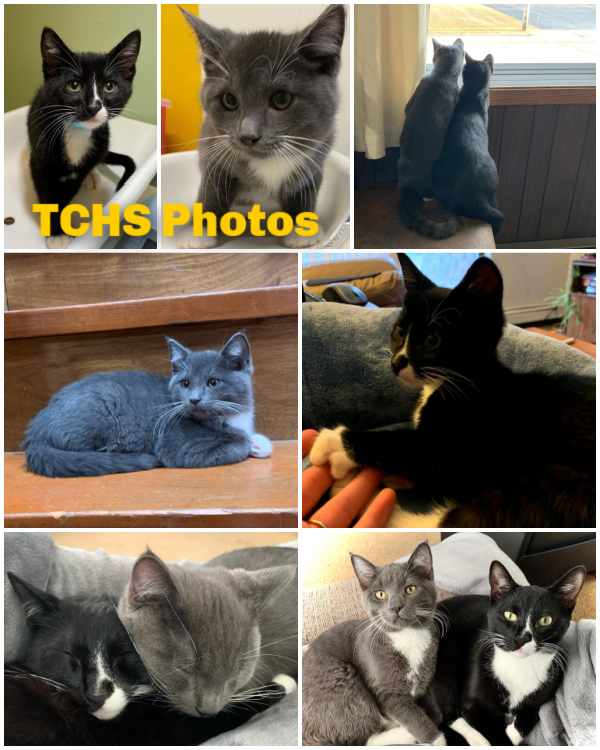 Tri-County Humane Society's Kitty Korner was only around for a little more than a year, but with hundreds of adoptions done there, it had a big impact. This adoption story starts at Kitty Korner, then winds back to our main shelter. (It's a great story – hey, aren't they all?)
---
"Last August, I was scrolling on Facebook and saw a little video of the cutest little boy at Kitty Korner. I told my fiancé I was just going to go look at him. He knew that if I went alone, I'd come home with him, so he met me there. I fell in love and we put a deposit down, saying we'd talk about it and if worse comes to worse, at least the deposit was going to help other animals at the shelter. A few hours later, I'm doing dishes and my fiancé looks up at me and goes 'We're getting a cat, aren't we?' I nodded and the rest was history. August 12 was the day we got Frankie and our lives have been changed for the better. He was the goofiest, most energetic cat we had ever met! He was so affectionate and never wanted to leave our sides when we got home from work. After a few weeks we figured out just how clingy he had become to us, and while we loved the attention and cuddles, we knew he was incredibly lonely during the day when we'd leave for work.
"We kept our eye out for a little brother or sister, but with getting married and buying a home, that was put on the backburner. In November, when things settled a bit for us, we took a more serious look into getting Frankie a sibling. That's when we met Flynn (formerly Ozzy)! We thought it was fate that Flynn's birthdate was August 14 - so close to when we got Frankie. I am partial to tuxedo babies, but my husband did not want another black and white cat. So, when we found Flynn, it was the perfect compromise. He is a gray tuxedo boy and so handsome. I always joke that Frankie wears a tux and Flynn wears a suit. I was a little worried about Frankie becoming jealous with another animal to give attention to, but the two became fast friends. They're pretty inseparable now and we know that Frankie is much happier with a brother as a companion. The two are very spoiled by their parents of course, but my mom and sister have taken their roles as "grandma" and "auntie" very seriously and spoil these two rotten. Our lives would be so incredibly dull without our boys- they are constantly making us laugh and bring such a fun energy to our home.  We are so thankful to Tri-County Humane Society for being a great first home for our babies and for giving us our boys. We can't imagine life without them!"
---
Whether our cats wear a suit or a tux (or coat of many colors!), we love hearing they scored a great family who appreciates their individual "style"!