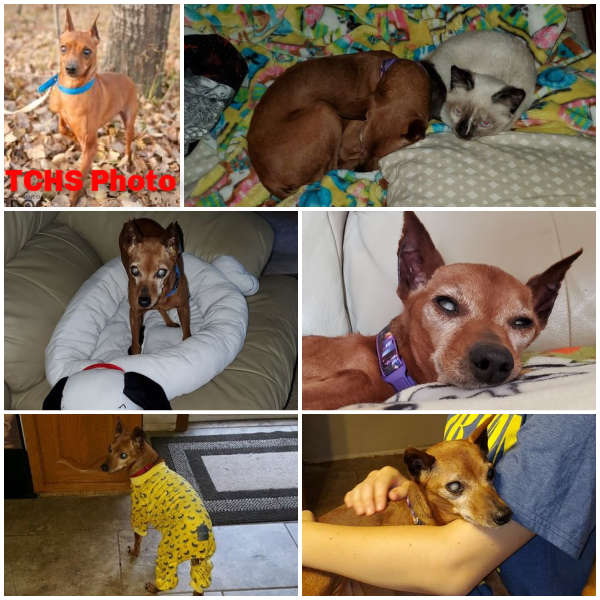 Did you know that November is Adopt a Senior Pet month? Well, it is, so there's no better time than now to share an update about Oakley, a Tri-County Humane Society alum who turned 15 this year. Oakley, a Miniature Pinscher, was adopted six years ago after being in and out of the shelter a few times before he found a solid match. Well, Oakley is still thriving, says his human.
---
"He is doing very well. He had a pancreatitis attack back in March but with a diet change he is doing well. He spends most of his days napping and loves to be in bed with me at night. He loves to get stroller rides and enjoys sunning by the patio door. In August I adopted Q-tip, now Smore, a Siamese kitten."
(Smore also was a recent Feel Good Furday profile; she and Oakley are nap buddies.)
"Although Oakley is now completely blind, he still enjoys his kitten sister. Oakley is one of the best things in my life. I couldn't imagine our home without him. We are happy to be his forever home and hope we enjoy many more years with him!"
---
This is the reason we do what we do – so pets can find a new home to grow old in! Thanks for helping us do that. Here's to many more happy, healthy times, Oakley!