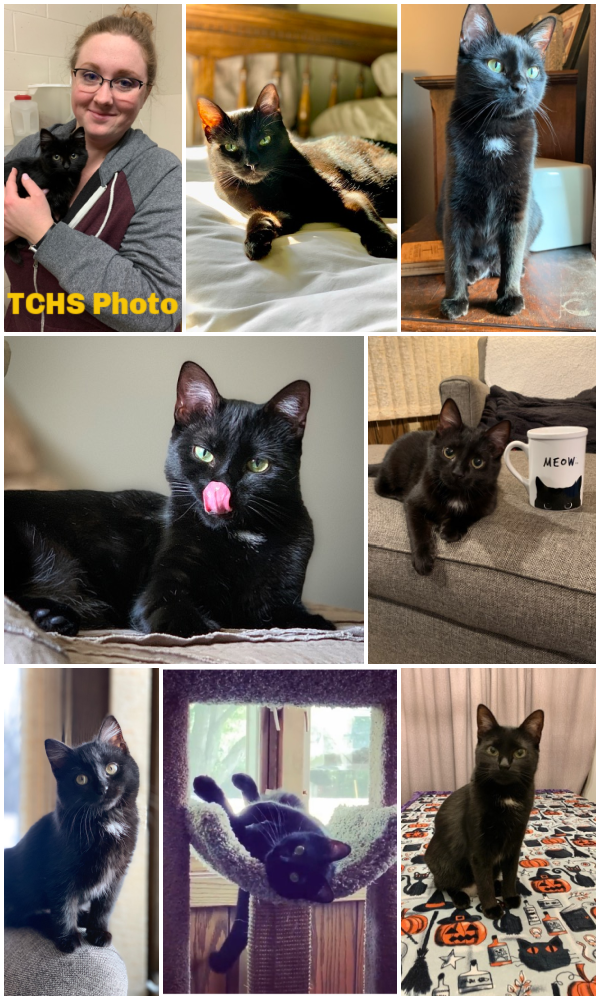 Not everyone understands the magical connection of a "love at first sight" experience, but for those of us who do, this story will be something you can relate to.
---
"Bonnie, or more commonly referred to "Bon Bon", is the sweetest, cuddliest, most friendly cat I've ever known. My husband surprised me for my birthday with a trip to the shelter. We stopped at TCHS on a weekend around Christmas time last year in search of a kitten. We visited your multiple rooms and took time to admire all of the adorable cats and kittens available for adoption. We wandered to your last kitten room with high hopes of finding the right kitten, and I could not have been more pleased with who we found. I spotted her almost instantly and knew right away I needed to hold this precious black ball of fur. From the moment I held her for the first time, I knew she was the right kitty for our little family! She is playful, friendly, and has the loudest purr motor ever! Bonnie adjusted to our home so quickly and now I can't imagine my home life without her. It wasn't long after she arrived in our home that she chose me, her Kitty Mama, as her human. She is so friendly with everyone, and greets everyone at the door. She's like a watchdog. My daily routine's activities now include a black cat in every way, and I've become used to having a cute friend follow me from room to room. Her daily life consists of birdwatching from her cat tower, sleeping, and following me around begging me for scritches and brushing.  We chose to celebrate her birthday on Halloween being that she's a black cat and she's secretly fulfilling my Sabrina the Teenage Witch dreams. She'll be 1 at the end of this month, and I look forward to many more years of her sweet cuddles and hilarious antics. After a few of my friends urged me to do so, I chose to start Bonnie her own Instagram account-- so that my animal loving friends can follow her and so that I can document and digitally scrapbook her adorable life. (Feel free to follow her on Instagram to see how she's doing! BonBonKitty19)."
"THANK YOU for helping us find the most perfect kitten."
Austin and Jenna