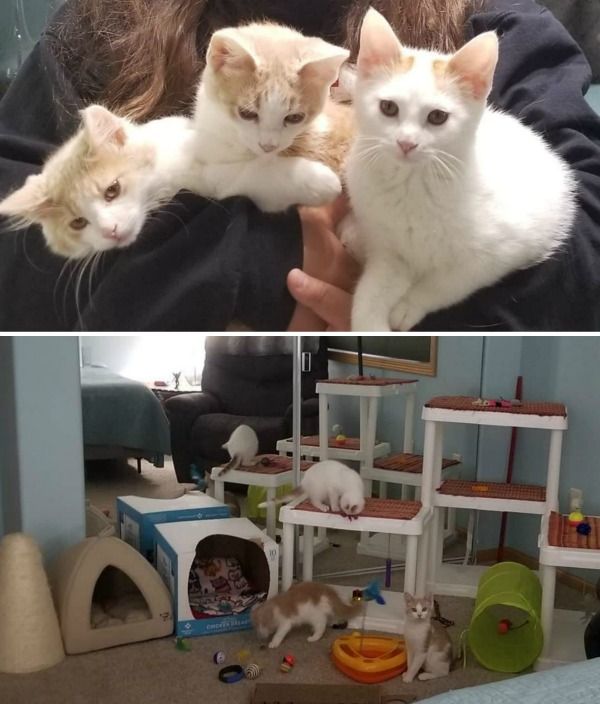 This story features one of our foster home success stories which is bound to make you feel pretty good! One of the many reasons Happiness Happens Here is because we have so many people willing to open their home and hearts to animals not yet ready to face the big world of the adoption floor experience – and ultimately be successful in a new home environment.
Here's an update from one such foster home highlighting their experience with the three not-so-social kittens they took home to help become more socialized:
---
"My granddaughter renamed them from a list of about 60 names she's been collecting for just such an occasion.
We had a bit of a strange start to this fostering chapter. Within an hour of arriving home, the brothers found their way into an extremely tiny wall space under the dryer vent! OMG!!! How did they contort themselves to get in there? Two came out within a short time, but the third was in the wall all night! Fortunately, foster care coordinator Kallie was able to talk ME off the wall and gave ingenious advice on how to retrieve the little rascal (it involved the litter box). Whew and P.U.!
Now all three of our 13-week old "community" kittens are doing very well with their socialization. Chandler and Kjrk have given up their favorite hiding spots, like to be with people and love belly rubs. The long haired kitten Cricket is a cuddler and although still a bit shy, he is getting better about not hiding. They have the run of my bedroom suite and I'm letting them explore the rest of the house one at a time this week. I am amazed that having been taken in by TCHS at such an advanced age, they are still willing to put their trust in people. The boys are having such fun with the cat tree that we built out of old plastic shelves!
This has definitely been a challenging adventure, but so rewarding to see these guys blossom into kittens that can love and be loved."
---
Thank you to these boys' foster home for taking great care and showing them that we humans aren't so scary after all!