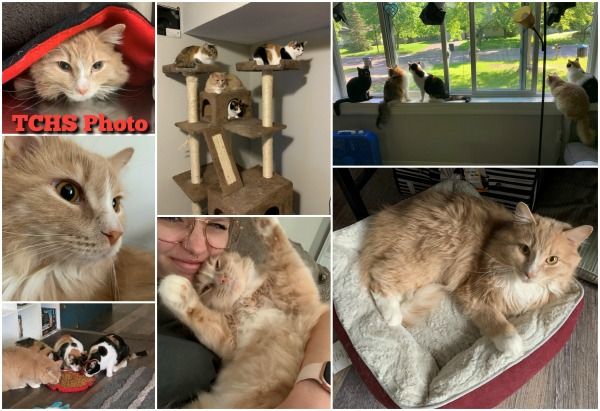 This story is about a cat who came out of his shell (and out from under his blanket) to find his new best friend.
Gus, an almost 3-year-old cat, came to Tri-County Humane Society in mid-March. He was mostly an outdoor kitty, but staff felt he could get used to (and learn to appreciate) an indoor lifestyle. He didn't have to wait very long – he was adopted only two days later.
---
"We came to visit with him and instantly he melted our hearts," his human Rebecca writes. "He was hiding under his blanket but came out almost instantly to greet us.  It happened very quick, one second he was in my arms getting chin scratches to the next he was in the car going home with us." And Gus not only got a new name, he got multiple furry family members, including dogs and other cats.
"We have 4 other cats, all girls, Peaches, Tomato, Pickle and Melon, so to fit him into our family we named him Blueberry (Blue is his nickname). Blue waited patiently for the big reveal, as he was separated from the cats for a week before getting to the vet. I took that time to really bond with him, which really was completed in less than 24 hours with him to bond with me!"
Now three months later, Blue is anything but sad in his new home.  "He loves napping, he loves snuggles. He loves to just hang out. He's so fearless with the dogs, he's basically the man of the house! I couldn't have asked for a better kitty to have added to our family!"