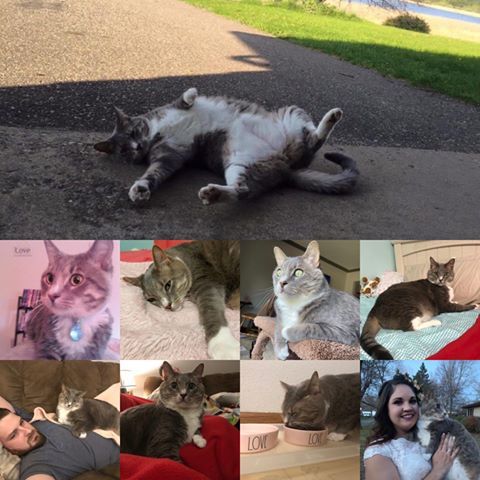 Every animal lover knows how much pets can improve our mental and physical health. This story celebrates the 10th anniversary of an adoption that made a big difference for one woman.  Here's her story:
---
"Back in 2010 after debating with my doctor what would help with my depression he recommended me possibly looking into getting a cat or dog. Being a busy college student I didn't think I could keep up with the demands of a dog, so I settled on a cat.
I searched humane societies all over Minnesota trying to find the purrfect companion. I saw 'Thunder' on your website and fell in love right away. I went the next day to see him in person. I ended up putting a deposit on him and left. By the time I got home I was crying because I didn't just adopt him on the spot. So the next morning I went as soon as you opened and I adopted Thunder. I renamed him to Olley because he liked to hide from me (Olley-Olley-Oxen-Free).
Over the next 10 years, Olley has been the one constant thing in my life: through breakups, fights with friends, sleepless nights, bad days at works, switching jobs, getting up in the middle of the night with a newborn, moving, starting my own business, late nights due to anxiety attacks. No matter what, Olley was the one waiting for me at the door as soon as I got home and cuddling me while I fell asleep. Call me a crazy cat lady or whatever, but I love this fur ball to the moon and back. I'm so thankful 10 years ago I found him!"
---
We're also thankful Olley found his person. It's rather funny how we get a pet to take care of and soon discover they're also taking care of us! Once again the question "Who rescued Who?" surfaces.