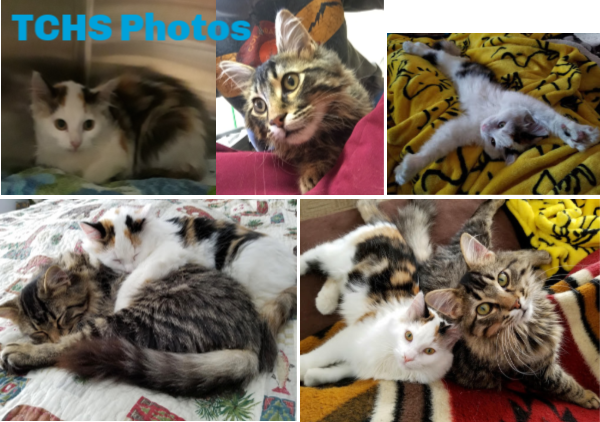 This is a submission from a family who has adopted from us multiple times – and most recently found not one but two purr-fect additions.
In early October, we had to say goodbye to our 12-year-old Rhia. We called her Tiny Poo, and she was adopted from TCHS in 2008. She had health issues her entire life, but she was loved like crazy for just as long. She was the tiniest cutest.
About a month and a half later, her big brother Reilly was diagnosed with pancreatitis, enlarged kidneys, and possible cancer in his spleen. Reilly, affectionately known as Pooper, was a TCHS adoptee in 2007 and became a tripod kitteh in January 2019 after losing a leg to bone cancer. He was the ultimate snuggler and the sweetest pea. The pancreatitis became too much too quickly, and we had to tearfully say goodbye.
We hadn't planned on getting more kittehs for a while, though we knew at some point we would. But after seeing a picture of "Dakota" on the TCHS website, we went to meet him... and absolutely fell in love. Taking advantage of TCHS's 2-purr-1 deal, we also picked out a floofy little girl, "Minnie Mow." And we hoped they would get along.
Our two new kittehs, now named Arthur James and Luna Moon Beam, hit it off immediately -- with us, with each other, and even with our dogs. They've been such great additions to our family.
Arthur and Luna will never replace Pooper and Tiny Poo, but these two little squirts have brought so much laughter and love in the few weeks since we brought them home... and they've helped make our hearts happy.
Thank you for helping us find these two naughty, adorable, and purrfect little rascals.
Melissa and Kirk King (and doggo brothers Hairy and Chet)