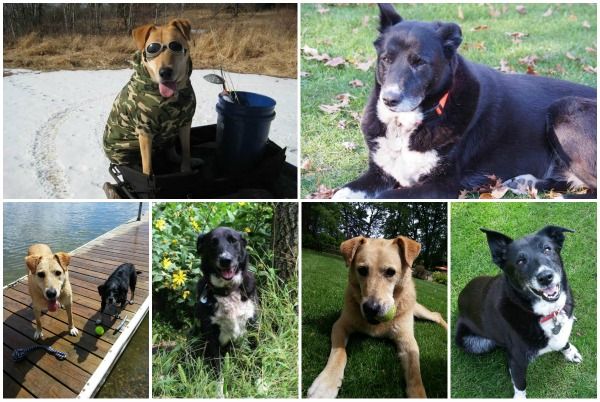 Nirvana is the black dog, Mako the tan. I included a pic of Mako and her best friend Roscoe who is also from tri county. Thank u again!!
We lost two of the senior dogs in our family this past year. My dog Mako who lived to be 14 and my mom/sister's dog Nirvana who was almost 16. We adopted both of them as puppies from your shelter. They both definitely were individuals and gave us a lot of laughs over the years!
Mako was obsessed with fetching and carried rocks or sticks around if she didn't have a toy handy. She also loved to ride on the four-wheelers and snowmobiles and loved every little puddle or body of water she came across. Nirvana on the other hand never wanted to go above her ankles in the water, even though she was a lab mix! She was very delicate and picky, she had her patterns and was set in her ways. Even her food had to be placed in a certain spot or she would not eat it. And she hated storms! Both of them absolutely loved to go on walks, even on the coldest winter days.
Every dog in our family is a rescue dog. We wouldn't have it any other way. Thank you so much for both of them, they gave us so much joy in our lives. They are truly missed this holiday season. Although I am not sure they miss being dressed up for Christmas photos! And thank you for all you do for the animals and our community – it is much appreciated.
Sincerely Amy and Family
In memory of Mako & Nirvana