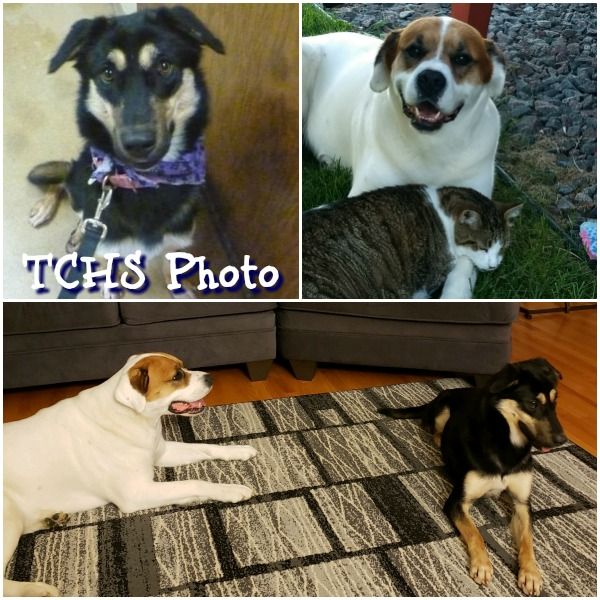 Hera came from another facility after being held for her stray time and never claimed. She only spent about a week at TCHS before her adventure in a new home commenced. Here is an update from her family. 
---
I wanted to reach out and give you all a quick update on Hera, whom my wife and I adopted in November, 2018.  My wife, Tammee is in her internship to become a psychologist, and is planning on doing her dissertation on pet assisted therapy, so we were actively looking for a dog that she could have trained and assist her in her academic and professional journey, that's where Hera comes into the picture.
We both fell in love with her, pretty much at first sight, super sweet, young, high energy but very much a pleaser, and we adopted her as soon as we possibly could. 
When we brought her home, she was definitely underweight, had a bad belly (which took forever to get under control), took to house breaking quickly and integrated with our family and other pets (one dog and one cat) pretty quickly.  I feel that there is some history of abuse as she is very fearful of change, men, and her collar but again, she is a pleaser and seems to work through it well.
As of today, Mazie (formerly known as Hera) has packed on the weight to make her look healthier, her belly has adjusted to her diet and she is fully a part of the family.  She is also headed off to her first phase of training on the 24th, which will last for two weeks. Once completed we will then be able to determine if she will be a good candidate for a therapy dog. 
Attached are pictures of our collective fur-children.  Once we have Mazie fully trained and (hopefully) confirmation of her becoming a certified therapy dog, we will keep you in the loop.