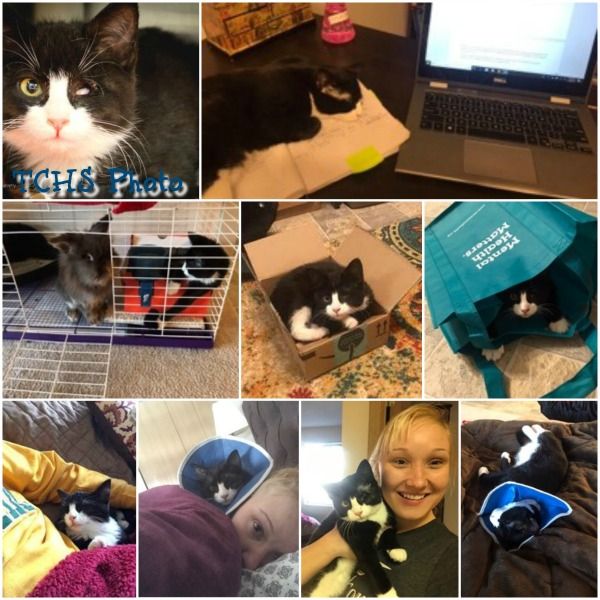 Barrel came to us on October of 2018 as part of a litter that were found as strays.  She was in rough shape; dehydrated, underweight and had a serious injury to her eye.  With medical treatment, surgery to remove her eye and a lot of TLC, she was adopted by her foster family nearly 5 months later.  Here's the update they shared with us:
Hello!
When I saw Barrel at the Humane Society I immediately fell in love with her. Despite the fact that she had an eye injury she immediately started purring when she looked at me and loved to be cuddled and played with. When I brought her home she immediately fit so well into my household. She even gets along well with her fur brother who is a Lionhead rabbit. She sleeps by my head every night and lays on my lap while I work or watch TV. She even has some funny quirks like: the fact that she plays fetch, likes to be in the shower when it's running, and will bring her fur brother food and share her toys with him when he is in his cage. When she was big enough it was time for her to get her eye injury fixed. She took it like a champ, and didn't let the cone get in the way of her playing and cuddling while she had to wear it for two weeks.
The Humane Society staff were so helpful and took great care of her. And now she is almost fully grown and all healed! She is such a beautiful little soul and I'm so grateful to have her as part of my family.