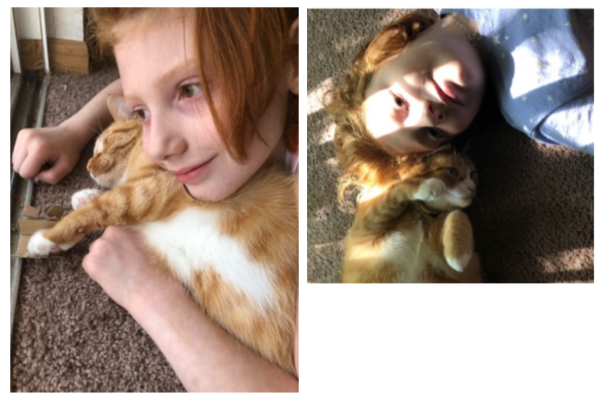 Hello friends at Tri-County!
When Kaitlyn was about 8 months, we got our kitty Winry (Tabitha) from your shelter! Kaitlyn and Winry grew up together as they were almost the same age! We always knew Kaitlyn was different since she was little. Winry seemed to know, too! Winry was always there for Kaitlyn, even when Kaitlyn would have huge meltdowns. Kait's meltdowns are kicking, screaming, self-injury, and lack of self-regulation. 
Unfortunately Winry had Hypocalcemia, and severe allergies to food. While the prescription food helped the hypocalcemia, it would flare her allergies and it caused a vicious cycle. Winry would get staph infections on her ears and body from itching. Unfortunately after six years of suffering, Winry's body was tired and we had to put her down right before Christmas of 2016. Kaitlyn was just 6 years old, and so was Winry.
Kaitlyn was devastated. Kaitlyn connects to animals more than people, and Winry was one of the few coping mechanisms Kait had to calm herself down. Autism is not easy when you are 6. 
This is where Ollie comes in. Kait wanted to donate some money to help the kitties at the shelter. We do it often. It is usually only a few dollars, but she gives all the money she has. So we looked at the kitties too and she saw Ollie in the stray cat room. I tell you Kait just lit up.
Ollie was purring and snuggling her. Kait cried a bit and said this was her baby, and that we needed to get him. She was ready for a new friend! I couldn't say no, and so I put a deposit down. I had no idea how I was going to pay for Ollie after his neuter surgery, other than by using my credit card!
I posted that Kait found a new friend at the shelter, and that we would be bringing him home after he got his surgery! My friend Adam saw the post and he donated the adoption fee for Ollie. Of course it was an anonymous donation, and I had no idea it was him until recently! 
Ollie has been an amazing gift ever since! Kait loves him more than anything, and she snuggles him when she is upset or when she needs someone to talk to. She makes him cat toys, cat houses (out of boxes mom would rather throw away) and always uses her money to get him a present. Ollie helped her when she was at her lowest and she began to smile again, when before she would cry every day about Winry. Ollie is her best friend, and the muse for most of her artwork.
Ollie is a sweet, chubby, loveable orange tabby cat, and he is a huge part of our family. Whenever anyone is down, he is there for snuggles and kisses.
Since then, we have moved into a house, got another cat from TCHS, and recently we got a dog! Ollie is welcoming to everyone and is the best!
-The Wipper Family