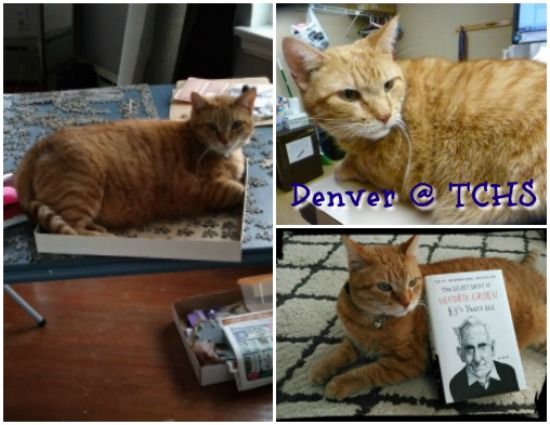 Denver came to us in December of 2017 because he didn't appreciate the company of the dog in his previous home.  He was only with us for 5 short days before finding his new soulmate.  Here's the update she sent us:
Dear Tri-County Humane Society,
I want to send you an update on the wonderful family member I adopted from you. I fell in love with Denver, the big orange cat (age 7, now 8) in December of 2017. He FILLED his cage and gave me what could be called a death stare, so of course I right away asked to hold him. He covered me in his bright orange hairs and squirmed his chubby body miserably. Yes Yes, this is one for me.
His Royal Orangeness Denver, is doing very well and though he won't admit it, his favorite thing seems to be napping on my lap. His purring is the most calming sound in the world.  He has lost a tiny bit of weight due to playing so much. I got him a harness and we often play in the yard. Recently we tested out the snow and he bounded through it digging and rolling! He rules our little roost here and HAS to have his breakfast on time, letting out a Pterodactyl like yowl, better than any alarm clock. Denver's been a very sweet and comforting companion for me. He's also finally warming up to the new husband invading his home. THANK YOU for taking care of this wonderful boy and making it possible to have him in my life.
Sierra