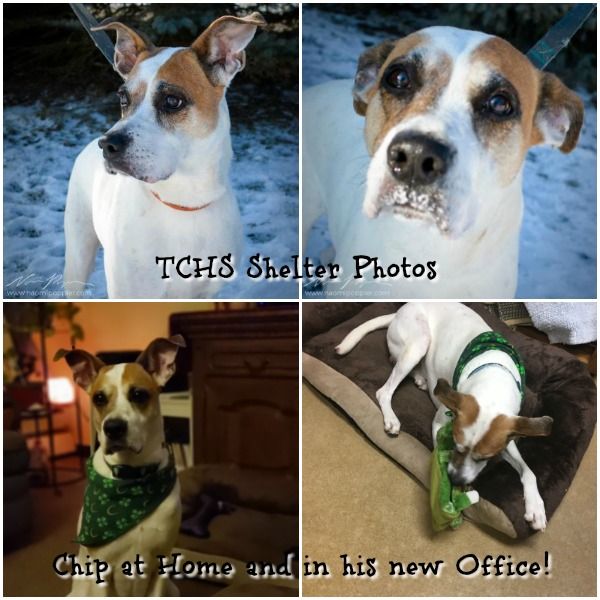 One of the best parts of Tri-County Humane Society is when staff and volunteers get to see animals transform from shy or scared in their kennels to outgoing and confident in their new homes.
That's the case with Chip, one of the members of our #NewYearNewHome gang – a group of dogs that TCHS actively promoted – and is promoting – because they've been at the shelter for too long.
Chip was what we at TCHS affectionately call "kennel kooky" – a canine case of Dr. Jekyll outside the kennel and Mister Hyde inside it. Chip, a 6-year-old Boxer/Pointer mix, came in as a stray in early December. He was barky and just generally crabby in his kennel for a long time, and thus didn't get a lot of second looks. But through the staff and volunteers' hard work, Chip started coming out of his shell. Time outside the kennel helped - staff and volunteers started bringing him in the TCHS conference room for a break from the loud kennel rooms. It was there that Chip became more secure, occasionally did tricks for treats, and loved to snuggle with visitors. One of those visitors is now Chip's new mom! His adoption was completed Jan. 10.
This 60-pound lug who once inspired people to back away from his kennel now is a perfect companion, according to his adopter.  "Thank you so much for my new big baby boy! I just love him!"
Chip is a good example of, just like you shouldn't judge a book by its cover, you shouldn't judge a shelter dog by how he or she is in a kennel! Thank you to Chip's adopter, and to all of those people out there who give shelter pets a second chance!