Rehoming Your Pet with TCHS
Note: TCHS is limiting cat intakes through mid-September. Please call 320-252-0896 for more information. 
Rehoming your pet can be an emotional and challenging experience. We're here to help! Prior to scheduling an intake appointment with us, we'd love to have a conversation with you to see if there are potential alternatives/resources that may help you keep your pet in your home. However, we do understand that there are situations where rehoming is essential. Once we've explored other options, we will schedule an appointment with you to bring your pet to the shelter. 
Please call us at (320) 252-0896 to begin this process. TCHS does not have time limits on the animals in our care. We require appointments to ensure we always have enough room for all the animals. Please expect a weeks-long wait to get an appointment. Thank you for understanding. 
Rehoming Questionnaires 
To help TCHS find the best match for your pet, we ask that everyone who has a surrender appointment with us fill out one of the questionnaires below before they bring their animal to us. (If you need help, a TCHS customer service representative will help direct you to the right questionnaire before your appointment; some customers may be asked to fill out several of the forms.) Please do NOT do one of these questionnaires without having an appointment with us; also, filling out a survey doesn't constitute making an appointment. Call us at (320) 252-0896 to make an appointment.
Thank you for helping us find the best path for your pet!
General Cat Rehoming Questionnaire 
House-Soiling Cat Questionnaire 
General Dog Rehoming Questionnaire 
Dog Aggression Screening Questionnaire 
---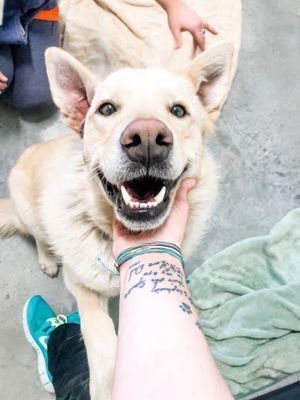 Rehoming Fees
Cats
Intact - $50
Altered - $25
Litter of kittens (age 6 months and under) with or without mom - $50 max
Dogs
Intact - $60
Altered - $30
Litter of puppies (age 6 months and under) with or without mom - $60 max
Ferrets, Guinea Pigs, Rabbits, Chinchillas, Hedgehogs, & Reptiles
$20 per animal 
Gerbils, Hamsters, Mice, Rats, & Birds
$10 per animal
---
Rehoming Your Pet Yourself
Adoptapet.com and Getyourpet.com are apps that give owners another outlet for rehoming without using an intermediary like a shelter.  They gives pet owners the tools to find the perfect new home for their pet themselves. This humane option minimizes stress on pets by keeping them in their current homes until new ones can be found.
How it works: Both apps walk you through creating your pet's profile, safely meeting interested parties and finalizing the adoption. Potential adopters can see your pet's profile online and contact you to arrange a meeting to get to know your pet. You can then complete the adoption and legally transfer ownership. Among the benefits to programs like these are:
It's a safe, no-cost way to rehome a pet and a much safer alternative than posting to online classifieds (please don't do that);
The adoption fee can go directly to Tri-County Humane Society or any other shelter, if you choose, to benefit other homeless animals in the area;
It gives pet owners the ability to hand-select their pet's new home.
Relinquishing an animal can be a tough and heartbreaking experience. It also can be a gift of unconditional love to a new family. Regardless of what route a pet owner takes, we're here to help every step of the way.