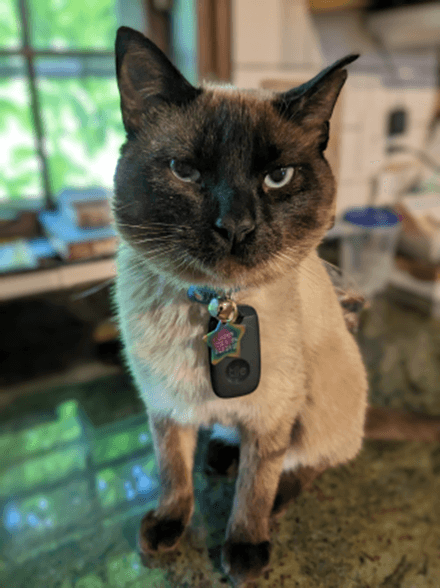 By Rose Hegerle, CVT. Rose is TCHS' Animal Care Manager.
With summer comes fun in the sun! Many of us are doing more outdoor activities and leaving the house more. It's not uncommon that pets get lost or go missing with all the goings-on of the season. Proper identification is one of the best ways to help keep your pet safe and/or returned to you if misfortune happens.
Chip 'em!
One of the most important tools to reunite a lost pet with their family is the microchip. A microchip is a very small chip implanted under the skin between the shoulder blades via injection. This serves as permanent identification with a unique number associated with the chip. If a chipped animal is found and brought to an animal shelter, veterinary facility, or animal control unit, the chip will be detected with a scanning device. This can help professionals trace the chip back to the animal.
An important part of the success of microchip and reunification is to be sure your microchip profile has up-to-date information for the pet and owner.
Collar/tag 'em!
The collar and tag is undoubtedly the most common form of animal identification and so very important. Although many people choose to forgo a collar on their housecats, it's just as important they wear a collar as dogs. Many indoor-only cats accidentally get outside and can easily become lost. Cats should wear a break-away style collar so they do not accidentally injure themselves if caught on something. Dogs should generally wear a buckle-style collar so that it stays put when they're on a leash or outdoors. A tag with a minimum of a phone number is a great way to help get your pet back to you. Additionally, it's shown that pets get back to their owners more quickly when they stay in their neighborhood rather than get impounded. Including the first line of your street address is another way to get your pet back to you faster.
There's an app for that ...
If you're tech-savvy, there are some more advanced methods of tracking your pet. GPS collars are available to keep tabs on your cat or dog. They can be cost-prohibitive for some folks, and there is variability in their quality. Other similar options are Apple AirTag, Samsung SmartTag, or Tile tags. These are connected to an app that helps you track missing things such as your keys or wallet, but can also be placed on your pet's collar to see their location should they wander off.