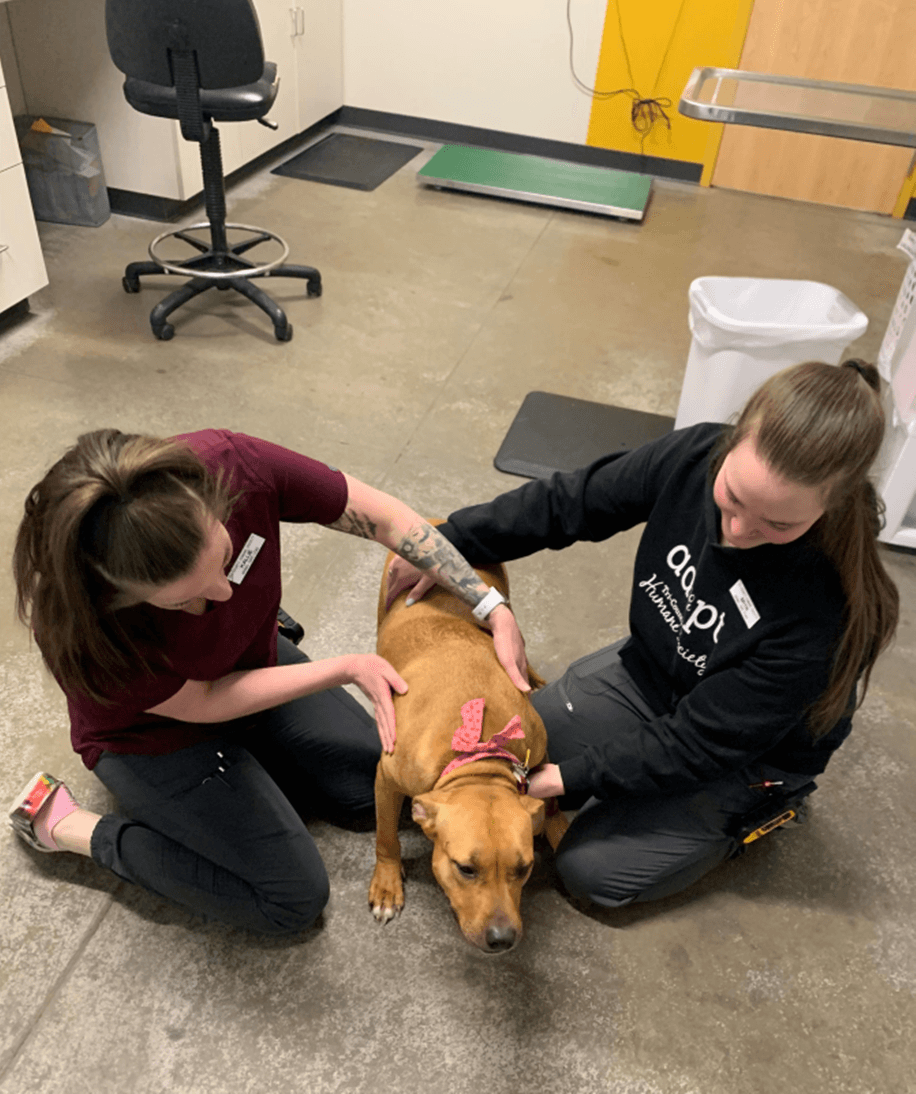 The long-awaited springtime is here! It's time to get out exploring, hiking, and doing all the fun outdoor activities with your pets!
But as the trees turn green and the flowers bloom, other unpleasant forms of life come out to play as well! While it's best to keep your pets on parasite prevention all year round, it's especially important to do so during the months where mosquitoes and ticks are prevalent.
Pictured: TCHS Animal Care Staff Members Kallie Braun (left) and Bryn Liffrig exam Sunny, a dog who TCHS has been treating for heartworm.
Parasites
Dogs and cats alike are vulnerable to a variety of parasitic infections. Some common gastrointestinal parasites (such as roundworms and hookworms) can easily be picked up in the dirt and even potting soil. Others, such as tapeworms, need an intermediate host to infect cats and dogs. If your pet hunts and eats rodents or gets fleas, they can quickly become infected by different types of tapeworms. These are but a few of the parasites your pet can pick up out and about in the world. Parasites that affect the gastrointestinal system may lay latent and not cause obvious symptoms right away. They can progress to causing mild distress such as vomiting, diarrhea, or even lead to anorexia, anemia (low red blood cells), and much more complicated issues. And what's worse, people can get some of these parasites, too!
Fortunately, there's many dewormer options available as part of monthly preventative treatments. Ask your veterinarian which medications are appropriate and safe for your pet.
Fleas
External parasites can be just as detrimental to your pet's health as internal parasites. Fleas are around all year long, not just in the warm months. (TCHS sees fleas all year round!) Flea infestation can lead to skin infections and discomfort, allergic reactions, tapeworm infection, and even anemia if left untreated for an extended period of time.
There is a wide variety of flea preventatives available for cats and dogs. However, use caution: Many over-the-counter flea/tick treatments can be toxic (and even fatal!) to pets. Be sure to ask your veterinarian which medications are safe for flea and tick prevention and treatment.
Ticks
Besides fleas, ticks are prevalent in our area and are active from early spring right after the first couple thaws until winter and the hard-freeze. In fact, we have seen imbedded ticks as early as late February at TCHS! Ticks not only cause skin irritation and potential infection at bite sites, they also carry diseases. A few of the common tick-borne infections seen in pets are Lyme disease, anaplasmosis, and ehrlichiosis. All have different effects on your pet, but all can cause illness and all are spread through tick bites. Routine preventative medications will decrease the likelihood of a tick imbedding itself on your pet. Plus, tick prevention on your pets should help decrease the ticks that come into your home and into contact with you! Perform regular "tick checks" on your pets after coming in from outside and discuss safe tick preventatives with your veterinarian.
Heartworm
The last spring parasite to discuss is the dreaded heartworm disease. Heartworm is spread through mosquito bites and can affect dogs and cats, although dogs more commonly get infected. Heartworm disease is exactly as it sounds — worms that live in the heart (and the larva live in the bloodstream). As you can imagine, heartworms cause significant illness in pets and will generally be fatal if left undetected and untreated. Fortunately, there are effective and safe preventative medications you can give your pet to prevent infection. Prevention is a much safer option than treatment (and more cost effective!), so please discuss safe heartworm prevention with your veterinarian!
So, make sure your pet is up to date on parasite prevention and get outside and enjoy the Minnesota springtime!
Rose Hegerle is TCHS' Manager of Animal Care.
---
TCHS' Re-Tail Shoppe sells Frontline in various sizes as well as individual doses for dogs and cats.
Did you know: We treated 18 dogs with heartworm in 2022.