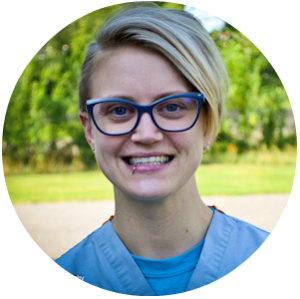 It is time to get excited about Adopt a Senior Pet month! Pets of all ages deserve loving adoptive homes, but November is when we focus on celebrating senior pets! There are different interpretations of when exactly pets become "senior," but generally accepted guidelines begin anywhere between 8-11 years old (younger for giant breed dogs).
What you see is what you get
One of the many great things about adopting a senior pet is that you usually get what you see in terms of behavior and personality. Puppies and kittens are fun to watch grow and see their personality develop. However, sometimes you may get a different personality than you were expecting for your household.
Senior animals may behave a bit differently in a shelter setting than in a home, but there are typically fewer surprises. Seniors often have well-established personality traits, so you may find it easier to find the personality you're looking for by focusing on senior pets. But don't be fooled by the old myth "You can't teach old dogs new tricks!" Dogs and cats are constantly learning and adapting to their environments (just like people). You can still enjoy watching your senior pet learn new tricks and behaviors as you get to know one another. The training process is just as rewarding with a senior as it is with a young animal.
Senior cats and dogs are usually more calm and relaxed than younger animals. This may translate to more snuggle time with their new owners. Who doesn't love a good pet snuggle session? Especially with the Minnesota winter on its way, a cuddle buddy cannot come at a better time! The love and affection of an older animal is good for the heart and soul.
Things to factor in...
If you are planning on adopting a senior pet, or already have a senior pet, be mindful that they are at risk for age-related health issues. Regular veterinary exams, preventative medicine, and routine screening tests can keep your senior pet in the best shape possible. As animals age, they are prone to developing muscle and joint issues, changes in organ function, metabolic disorders, changes in vision and hearing, and more. Early detection of age-related changes can make a world of difference in keeping your pet happy, comfortable, and healthy in their golden years. Age itself is not a disease. Senior pets deserve all the help they can get to improve their quality of life and strengthen the bond they have with their families.
Come adopt a senior pet at Tri-County Humane Society today!
Rose Hegerle is a Certified Veterinary Technician who has been with TCHS for about seven years. Her first pet  she adopted as an adult was a ball python.
Did you know?
All adult cats at TCHS (6 months and older) are always free to a senior citizen (55 and older) and/or veteran.
All cats 10 years and older have $10 adoption fees.