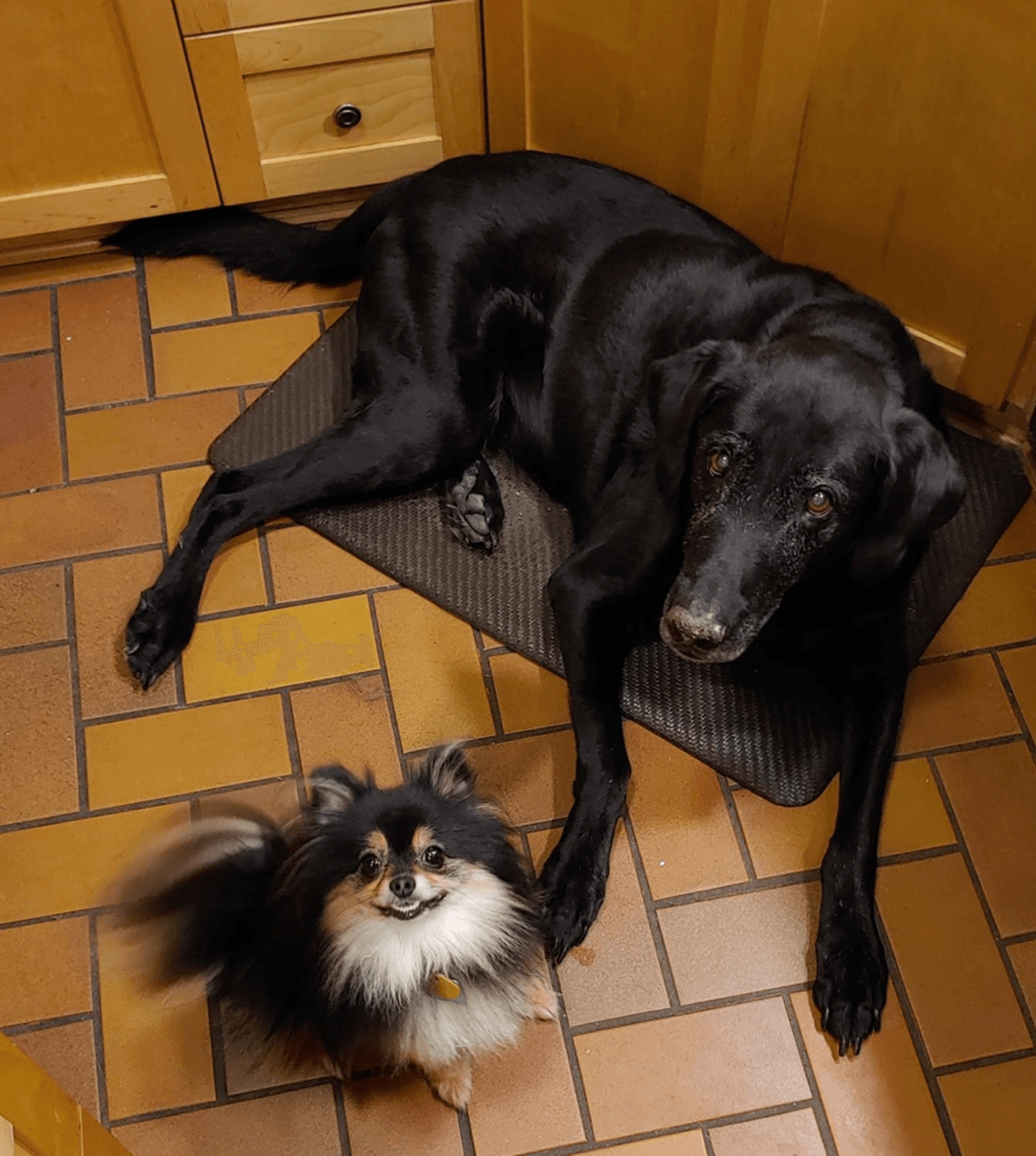 Although we always recommend plenty of physical exercise for dogs, it's just as important to provide mental exercise and enrichment! It is especially important when physical exercise options are limited.
Let me tell you about my bestest boy, Gus. He's a 12-year-old Labrador Retriever who I've had since he was 8 weeks old. Gus is a classic example of the breed: high energy, active, people-pleaser, intelligent, and he doesn't know how to live life at any speed less than 110 percent!
Unfortunately, his body is aging more quickly than his mind, and he doesn't quite realize it. While we used to go for an hour-long hikes or play fetch in the yard for an extended period of time, now his body only allows for 10-minute walks around the block. He's still a very happy boy and he thinks he can still act like a pup, but we simply can't partake in our regular exercise anymore for his health and safety. Fortunately, there are many options to provide enrichment and mental stimulation for our pups who need to physically slow down. Other situations where dogs may need exercise restriction would be those with mobility concerns, injuries, illnesses, recovering from heartworm treatment, extreme hot or cold temperatures, and more.
The right stuff-ed toys
There are many easy and readily available products to promote mental exercise. A common toy is the Kong, which can be stuffed with peanut butter, other spreadable treats, pet-safe fruits/veggies, and many other things.
After stuffing, freezing the Kong is another way to extend the boredom buster time. Additionally, food-dispensing balls or puzzles come in a variety of shapes, sizes, and skill levels. Instead of feeding your dog's meal in a boring old bowl, placing their measured meal of kibble into a food-dispensing ball or puzzle is great for adding engagement to mealtime.
Frosty fun, burritos
Ice can be a great way to keep your pup busy, too. One easy option is to reuse a gallon-sized ice cream pail as a frozen funfest! Add 1-2 inches of water to bottom and allow to freeze. Then, add a favorite toy and/or some treats, add more water, and freeze again. Create a layered frozen parfait of goodies and once the pail is a frozen chunk of fun, offer to your dog to lick/play with as it melts and fun things are revealed. Another option is using something like an ice cube tray or muffin tin to mix water and toys/treats and freeze into mini versions of the ice cream pail.
One great playtime activity to encourage mental exercise is the "goodie burrito." Lie an old bath or beach towel out flat. Across the short length of the towel, place several treats in a line. Space out different lines of various treats such as kibble, squeeze cheese, peanut butter, etc. Certain scents such as rubbing something that smells like a cat or an outdoor item in one of the spaced-out lines can also provide an exciting enrichment opportunity. After you've got several lines of treats spaced out, roll the towel carefully into a "burrito." Offer to your dog and watch them play with and discover all the different items within the burrito. The same idea of sniffing out and searching for fun things can be accomplished with a "snuffle mat," in which there are little pockets of fabric to hide treats and toys.
Another fun, simple activity is "find the treat." Collect three small bowls or cups. Set them upside down. Place a high-value reward  under one of the items and mix them up. Then watch your pup search for their reward!
Reading time
Simply sitting with your dog and reading out loud has shown to keep pets entertained and engaged with you. It may seem silly, but we see really great results with shelter pets and the positive impact someone reading to them makes. It keeps their mind active and provides an important social activity for them! There are so many easy, cheap, DIY ideas out there to provide enrichment and mental exercise for your dog. It will add happiness to their days AND to yours!