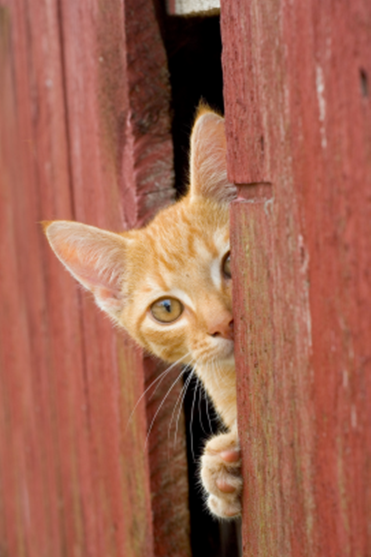 Most of Tri-County Humane Society's supporters know the organization has had a robust cat adoption program for several decades. In 2021, TCHS placed 3,140 cats and kittens into adoptive homes. Some people, however, may not know about the programs available to care for cats who are not pets but rather community cats.
Community cats are generally considered unowned cats who live outdoors and find shelter and food resources in their environment. Shelter and food may be offered by humans who live in the areas with such cats, but they do not consider the cats their pets. Essentially, community cats coexist in the geographical landscape with the people around them. Many community cats are feral (not domesticated to interact directly with people and essentially "wild"), others are asocial (aloof and not comfortable getting too close with people), and some may be fairly friendly with people, but have always lived outdoors and in out-buildings without human companionship. When cats fall into these categories, who takes care of them?
It takes a community
Well, as in their description, "community cat," it's the local community who determines the type of life they are permitted to live and the amount of care they may receive. In decades past, these cats were either ignored or trapped and removed from their outdoor homes (removal may have been relocation or even euthanasia in certain situations). The more modern, humane, AND most effective method of controlling the community cat population has been to catch the cats, provide sterilization and vaccinations, and return them to their original outdoor locations. If cats are living in a certain area outdoors, simply removing them will not decrease their population. Whatever resources such as food, shelter, etc., exist in that area will just be consumed by a different cat when one is removed - commonly referred to as the "vacuum effect." If cats are sterilized and vaccinated and returned to their found locations, they will stabilize the population and create healthier cats in the area. This is positive for local public health for people and animals alike.
Perhaps the most common phrase for this process has been "Trap-Neuter-Return" (TNR). Many individuals and even organizations coordinate TNR efforts. TCHS does not have the ability to go out into communities and trap cats in an effort to stabilize populations, but it does offer a program to provide the sterilization and vaccination of such community cats. For the past few years, TCHS has operated a small scale "Return to Field" (RTF) program where community members can trap cats who are confirmed to be unowned and are not pets, and bring them into the shelter for sterilization and vaccination. The same community members will then release the cats back into their environment.
Making a difference
What's included in the care TCHS provides to community cats coming through the RTF program? Spay or neuter surgery, rabies vaccination, distemper-combo vaccination, and anti-parasitic treatments as needed. Why does this help the community? Cats will live in shared outdoor spaces whether or not humans intervene. They are survivors and prolific. Rather than constant breeding, sterilized cats will not produce more offspring, yet still utilize resources in the areas and prevent more cats from moving in. Vaccinations and anti-parasitic treatments for those cats not only benefit the cats receiving the care, but also provide a healthier environment for people and their pets. There is also less cat fighting, spraying/marking, and other nuisance behaviors when community cats are sterilized rather than left to their own devices or removed from the area. Even folks who do not particularly like cats benefit from a healthy and stable cat population in the area.
RTF and TNR programs have been shown to reduce cat populations and provide benefits to their local communities. These options are gaining more favor in modern animal welfare and animal control efforts. While there are some limitations to the availability of RTF appointments at TCHS, we are working toward growing this program to further advance the animal welfare we provide to our area. If you know of outdoor cats who are unowned and may benefit from this program, reach out to TCHS and we'll work together to find solutions to the outdoor cat population!
RTF is the first choice for outdoor cats who are not suitable for adoption programs. However, there are some circumstances where returning the cat to its original outdoor location is not possible (for example, a recent case involved a farmstead that was undergoing demolition). Community cats who are trapped and unable to be returned to their previous outdoor home or placed in the regular adoption program become part of the TCHS "working cat" program where they are placed in an outdoor/mostly outdoor home, such as a farm cat, shop cat, outdoor mouser, etc. If you are in the market for a cat who may keep pesky rodents away and you can provide some basic sheltering, TCHS can provide you the cats!
---
Editor's note: TCHS does not have a set fee for our RTF service; we do ask the person who brings them in to the shelter to pay what they can to cover the costs. However, we will not turn anyone away for inability to pay.