Your donations save lives. It's really that simple.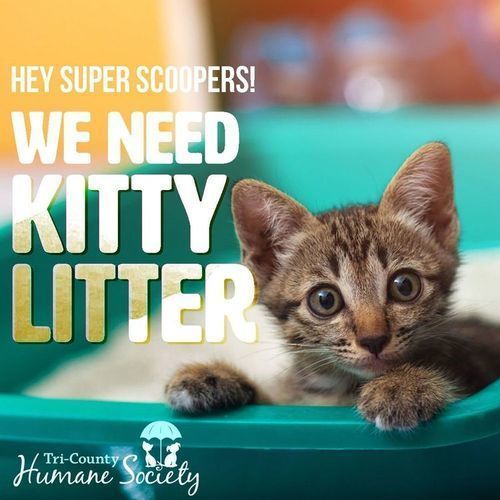 As an independent, nonprofit animal shelter, 100% of your charitable gift will directly benefit the animals at TCHS.  Rest assured that every dollar is wisely used in the best interest of the animals, and will enable us to provide the shelter and veterinary care they need until we can find them a home.
We need YOUR help to help them. Read on to learn how you can make a difference. 
Become a Super Scooper

Want to join a club that all the cool cats are talking about? Consider this your invitation!
Tri-County Humane Society is launching Super Scoopers, a program that encourages our friends to donate kitty litter to our shelter. Now, we know cat litter isn't glamorous, but our shelter goes through a lot of it all year-round.
• Drop off litter at our shelter. To make sure you're in the running to be named Super Scooper of the Month, pop in to the front desk and sign the clipboard we are using to keep track of our club members!
• Buy a bag of Cat Tails litter from our Re-Tail Shoppe and donate it back to us! (And remember to sign our clipboard for credit.) Because all profits from our store go to our shelter, it's a double-win!
• Buy litter from Chewy or Amazon (or if you prefer, Target or Walmart online) and have it shipped directly to us! Make sure to leave your name so you can get credit for being a Super Scooper. If you use Amazon Smile, choose TCHS as your charity of choice for an even bigger impact.
The Super Scooper of the Month (the friend who gives the most in terms of litter pounds or amount of food) will be recognized on our Facebook page and and in our front lobby's electronic display.
Cat litter isn't your thing? Well, we always also need donations of high-quality cat food and kitten food, too! (Or all-life stages food.) For wet food, we really like getting pate!
Our address is 735 8th St. NE in St. Cloud, MN, 56304.
TCHS loves our friends – and that's the straight poop!

From time to time, Tri-County Humane Society hosts online silent auctions to raise money for our animals and shelter. This has been particularly valuable during COVID, when we can't host large in-person events. When a Silent Auction is occurring, this link will take you to it - just click "Silent Auctions" above. Keep an eye on the TCHS calendar for other events.
Do you have an item that would be great for a silent auction? Contact Special Events Coordinator Bryn Liffrig at events@tricountyhumanesociety.org.

Our Constant Companion monthly giving program allows you to set up monthly, automated payments on your credit card. It's easy to do, and gives TCHS the regular stream of revenue we need.

We welcome donations in Honor of, in Memory of or in Tribute to a particular person, animal, or event.

Donations of time and talent by hundreds of volunteers, donations of products and services by area businesses and donations of money — very close to half of our budget — by so many people who care.

Charitable bequests are one of the best ways to assist us in our mission and ensure that we will be able to provide care for animals in need for years to come.

Sponsoring a kennel provides a great opportunity for families, community groups, organizations and companies to make sure our homeless animals have the best care and stay at the shelter, and get a little recognition in return!

Check out our wish lists for animal care, office and operating supplies - your donations save us thousands of dollars each year!

Donating your old vehicle to Tri-County Humane Society is convenient, easy, and may qualify you for a tax deduction. And best of all, your donation of a used car or truck will make a big difference in supporting TCHS!

Links to shopping sites like Amazon Smile, when you use these links a portion of your purchase will be donated to TCHS - at no cost to you!
Do you have ink cartridges laying around? How about aluminum cans? Don't throw them out - donate to TCHS! Details at this link.
TCHS is a 501©3 nonprofit animal shelter.  Contributions are tax deductible to the fullest extent as permitted by law. 
Tax ID #: 23-744-9686 
The Tri-County Humane Society (TCHS), located at 735 8th Street NE in St. Cloud, Minnesota, offers compassionate care to over 3,000 pets each year as we assist them in their journey to find a new, loving home - thanks to support from people like you! 
---
CompliAssured Secured