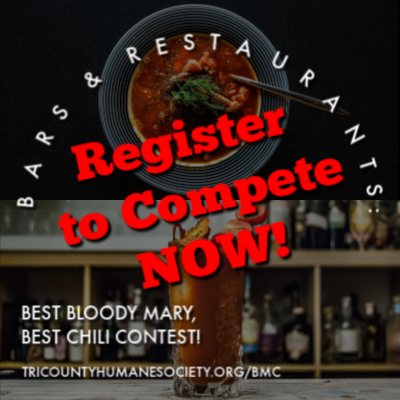 Bars & Restaurants - Register to Compete!
This contest is limited to establishments who prepare food and drink in a commercial kitchen. No individual/home based competitors, please.
Limited Spots Available, Register Early Online or download materials here!
---
Register Online Now!
Best Bloody Mary and Best Chili Contest: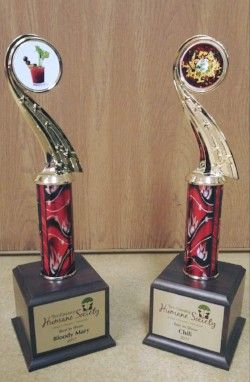 We are inviting area bars and restaurants to compete in our upcoming contest to benefit Tri-County Humane Society. All ticket sales from this event will benefit the animals! 
This is our fourth year with this event and we are thrilled with how popular it has become. In 2019 we dropped the "celebrity judges" portion of the voting process—the 200+ ticket holding voters take their jobs very seriously and want to know their vote counts! 
Every year more people attend (even last year when it was 30 degrees colder than past years!). In 2019 we added space by opening the door that joins the Event Center with the Pub so we have more room to move.
Each competing bar/restaurant will be provided a 6' table per product with prep/work space behind. You can decorate your space as you wish, we want you to promote your venue at this event! Coupons, menus, etc. are all welcome as long as it stays within your space. There is no fee to compete, you simply need to register.
Download the Info and Registration for more on how we will promote this event and the competitors who participate. 
As a competitor, you will provide samples of your product to event attendees in small shot-size plastic cups (provided). If you're competing with Bloody Mary's, our sponsor will provide the vodka at the Event Center so you bring the mix only. We suggest you bring at least two gallons of Bloody Mary Mix or chili. 
We realize it may be difficult to provide staffing for this event. Our energized team of volunteers are ready to serve your product on your behalf (see details with the registration form*).
Attendees will move from booth to booth sampling all the available Bloody Mary and Chili options while making notes on their ballots as to which they prefer. 
The tasting goes from 2-4:00.
At 4:00 the final tallying will be completed and the winners announced. "Best in Show" Bloody Mary and "Best in Show" Chili each receive a handsome trophy to display at their establishment!
The big winners last year were The Red Carpet (Bloody Mary) and MC's Dugout (Chili). But everyone who participated was a winner in our eyes!
Thanks to Anton's, Crooked Pint Ale House, Erbert & Gerbert's Downtown, HR Pesty's, House of Pizza, Lily's Wings, Burgers, & Things, MC's Dugout, The Red Carpet, and Torch Sauce Co. for their  participation in 2019! We look forward to adding your establishment to our list this year!