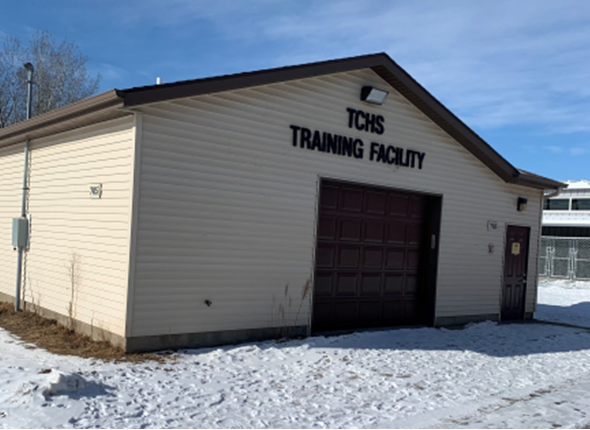 Tri-County Humane Society knows you want to treat your pet – but you also may need to go easy on your wallet. It was that thinking that led to our organization opening the TCHS Re-Tail Revisited shop in our Training Center in mid-December.
Re-Tail Revisited is a pet supply thrift store, carrying gently used (and a few never-used) products for our furry, feathered and scaly friends. The Training Center, which is next to the shelter, used to be where the TCHS surgery team did their work.
Our new shelter includes an on-site surgical suite, so the Training Center didn't have an immediate use.
Coincidentally, the new shelter doesn't have any space for the TCHS "donated merchandise" area, which was popular among bargain shoppers at our now-razed former shelter.
TCHS Executive Director Vicki Davis had noted that other humane societies have had luck raising money through thrift stores. (In fact, TCHS had a general thrift store, 4 Pets' Sake, about seven years ago that was on a property across town.)
Re-Tail Revisited will be different because it is on TCHS property (convenience and no lease!) and because it has a niche: offering only pet-related supplies.
Special Events Coordinator Angela Mundis got to work, organizing the many, many gently used items that TCHS had been gifted in the months immediately after moving into the new shelter. With the help of some other staff and volunteers, Mundis aimed to design the ultimate indoor garage sale for pet lovers.
So far, it's been a great success, Mundis said. She estimates it's raised more than $2,000 in profit so far for the shelter.
And Re-Tail Revisited is close to Mundis' heart for a good reason (actually, three good reasons): She's a dog mom to three senior citizen pugs, so she knows the importance of a bargain.
"Owning a pet can be spendy, so knowing we are able to help people who are looking for ways to save a little money is my favorite part," she said. "They can still treat their pet like the kings/queens they are, even on a budget."
There also is a wide variety of offerings. "We have everything from food and water bowls, tons of leashes, to crates of all sizes," Mundis said. "We also carry some small critter and bird items, as well as aquarium supplies. There is something for every pet owner!"
Due to COVID, face masks are required inside Re-Tail Revisited, and volunteers who work at the shop enforce social distancing. Still, it's a comfortable shopping experience, Mundis said.
"It's heated! Shopping is fun and easy and no one will leave empty handed," she said. "And the best part? All the proceeds help us continue our mission to help animals in need."