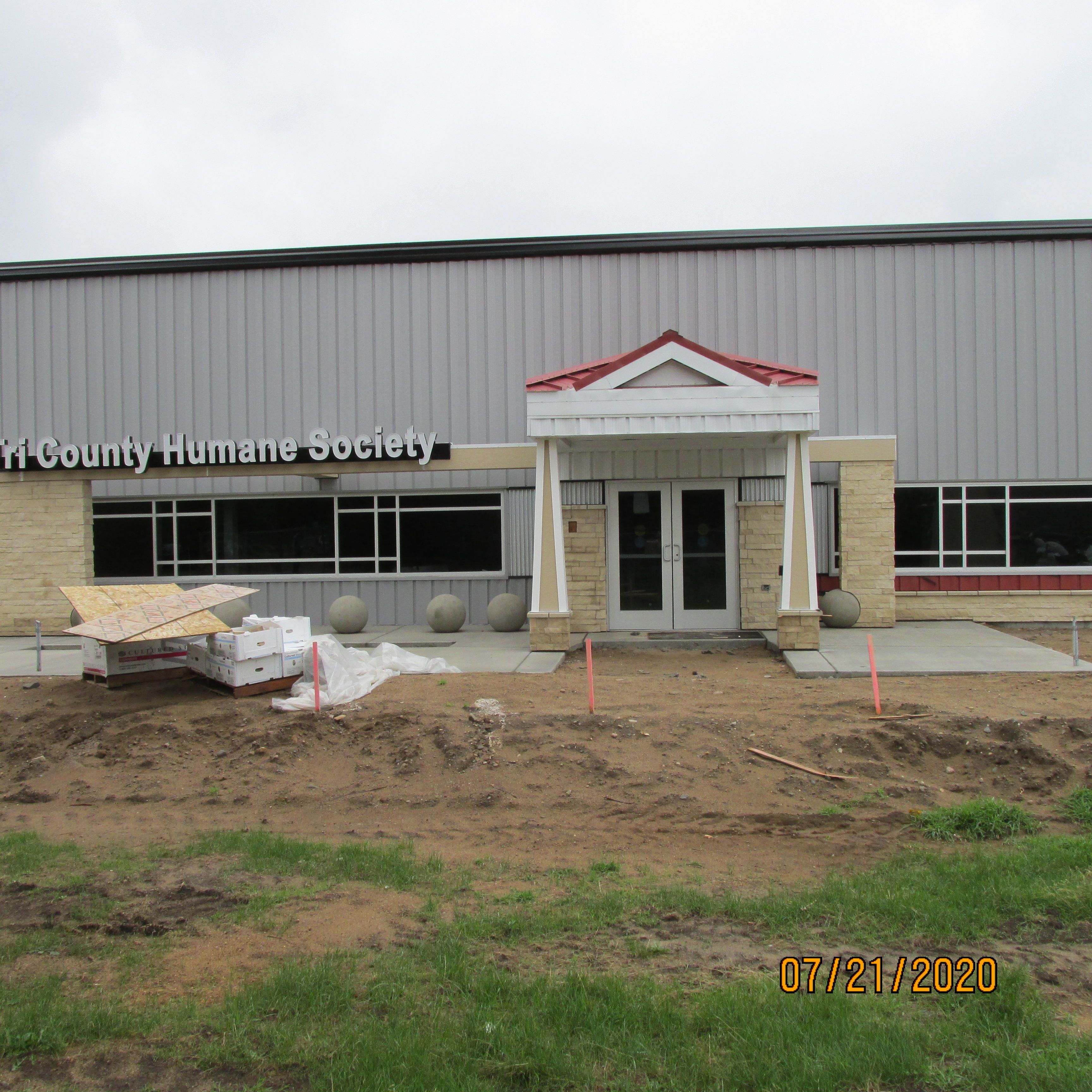 Tri-County Humane Society staff are moving into the new animal shelter this month. It's a moment that has been long awaited by staff, volunteers, TCHS friends, and other community members.
TCHS broke ground on the building in November 2019, with BCI Construction and HMA Architects heading up the project and Falcon National Bank being a special partner. The new shelter is double the square footage of the soon-to-be closed current TCHS shelter, which was built in 1989.
Among the highlights of the new building:
Separate areas for customers who are adopting versus customers who need to rehome pets, allowing for privacy and confidentiality. 
A state-of-the-art veterinary/surgical suite for spays/neuters and other procedures.
Improved energy efficiency.
Better play/socialization areas for animals, including "cat colony rooms" and cat-specific meet-and-greet rooms.
More distance between the dog rooms and the cat rooms.
TCHS Animal Care Manger Laura Lund and TCHS Certified Vet Tech Rose Hegerle said the expanded space will make a big difference as far as animals' comfort. Lund pointed out that having the veterinary/surgery suite in the building means no more literally carting animals across a parking lot to the stand-alone surgery building. 
The exam room will be less stressful, too for the animals receiving care, Hegerle added.
All these improvements will benefit more than the four-legged guests. "I am most excited that the additional space will allow us to provide a more comfortable experience for both the pets and the people we serve," Customer Service Manager Anna Stratton said.
For TCHS Executive Director Vicki Davis – who was at TCHS' helm in 1989 – the new shelter is a dream finally realized.
"I'm excited that TCHS has reached this next level," Davis said. "It feels like the new shelter will finally catch up to the standard of care we've been offering the animals the last several years in a challenging environment."
TCHS Manager of Fund Development Tauna Quimby is working to secure the remainder of the funds necessary to make the new shelter what it needs to be. TCHS has raised about $2 million, halfway to its goal.
"We're asking all animal lovers to make happiness happen in the years to come with a gift to the capital campaign fund," Quimby said. " If every family in Central Minnesota donated $45 we could move in to the new building debt-free." And there are plenty of opportunities left to donate, Quimby added.
"Choose to make a one-time gift, monthly gift, or pledge for up to five years to help us close the funding gap on our new building," she said. "We've got special places in our hearts and throughout the shelter to say thanks for making happiness happen. Donors will be acknowledged on our electronic recognition board, donor appreciation wall, or in the room you named with your gift."
There's still a lot of work left to be done - moving, raising money, getting settled into a new building. But although downtime will be next to nonexistent, expect Davis to take a second to reflect.
What's the first thing she's going to do when she enters the new shelter? "Smile … and knowing me, probably get a little (or a lot) misty," Davis  said. "Then I want to take a walk through the animal rooms and see how their new backdrop suits them!"