We receive wonderful stories of TCHS alumni on a regular basis, and we want to offer our sincere thanks to all who take the time to share them with us. We are invested in each and every pet we care for, and we want the best for them!  THIS is why we do what we do. Why you give, volunteer, adopt, and encourage your friends and neighbors to do the same.
---
2019 Happy "Tails"
Click the name to read the whole story!
---
Share Your TCHS Adoption Story!
Email your story with photos to pets@tricountyhumanesociety.org or message us on our Facebook page for future publication.
We love to hear how our alumni are doing!
Tippers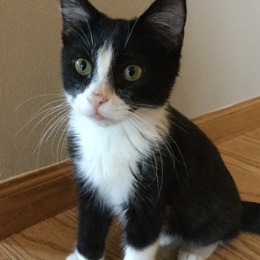 My name is Tippers! Or Tippy or Tippy the Tipster! I was picked up as a stray and brought to the Tri-County Humane Society where I was given lots of love and cuddles by all the amazing people there until I found my forever home with Five 2Foots and Five 4Foots (all TCHS alumni like me). I am a special kitty, born with a neurological condition called Cerebellar Hypoplasia. This basically means that the balance part of my brain is underdeveloped, hence the name Tippers as I often Tip over! Some say that I am a Wobbly Wobbler - but I'm glad I wasn't named that! I am only 5 months old but I have already decided that I have an important role in life. My mission is to be an advocate for animals with disabilities and raise awareness of Cerebellar Hypoplasia. I am a Motivational and Inspurrational Meower! My favorite saying is, 'No matter how many wobbles life throws at you, pick yourself up and try again!'
If you want to be inspired or feel some Tippy love, you can connect with me at the following: Facebook ~ Tippers Inspurrations, Instagram ~ @tipperswobblykitty, Blog ~ http://www.tippersinspurrations.com/
I am also available to visit people with disabilities and give them lots of snuggles. If you could benefit from some Tippy TLC, send me an email to tipperswobblykitty@gmail.com.
Tippy love and kisses to you all for a beautiful and purrfect day!