We receive wonderful stories of TCHS alumni on a regular basis, and we want to offer our sincere thanks to all who take the time to share them with us. We are invested in each and every pet we care for, and we want the best for them!  THIS is why we do what we do. Why you give, volunteer, adopt, and encourage your friends and neighbors to do the same.
---
2019 Happy "Tails"
Click the name to read the whole story!
---
Share Your TCHS Adoption Story!
Email your story with photos to pets@tricountyhumanesociety.org or message us on our Facebook page for future publication.
We love to hear how our alumni are doing!
Princess Peanut Butter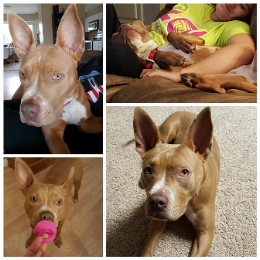 We adopted Princess Peanut Butter a little over a month ago. She has been great! She is quickly getting over her fear of people wearing dark clothing. Her favorite activity is to sit in the recliner and watch out the window and "protect us" from the mail man. :) She loves her squeaky toys and cuddling with the kids! She is a part of our family!
~Shannon A. R.