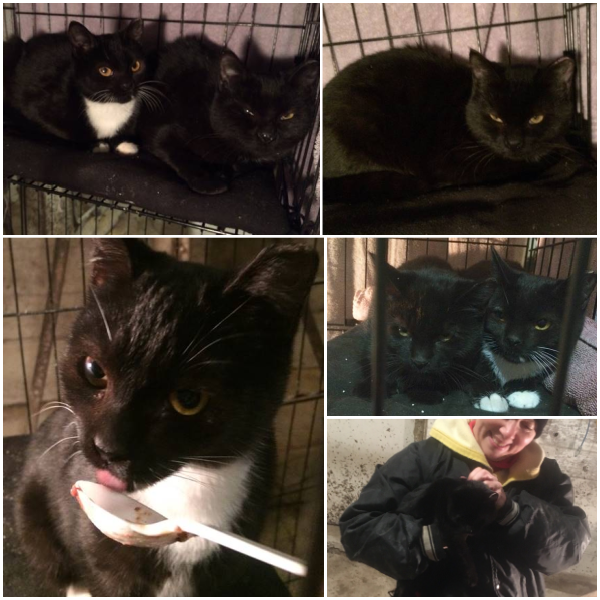 TCHS took a new direction several years ago to find a better path for cats not suited for an indoor lifestyle.  After seeing the data and success other shelters were having with a working cat program, we started placing socially challenged cats in barn and workshop setting to be mousers. It made far more sense than euthanizing perfectly healthy cats who's only fault was they couldn't be placed in an indoor home successfully.
Here is a follow-up from someone who hired two of our clients to come "work" (and live) in their barn:
---
Please meet Beatrice and Patrice (previously known as Mufasa and Sarabi).  They were adopted under the "Working Cat" program a few weeks ago. Our 4 current farm cats, while still quite active and healthy, are senior citizens, so it was time to look at some younger cats.  We were matched up with 2 adolescent kittens.  We had no idea what they even looked like until we picked them up.  We were really excited to find one was a black and white tuxedo cat.  We had to euthanize our oldest farm cat last winter (cancer).  She was almost 16 and had similar markings. She was the boss of everything, and we still miss her so much.  So these cats really felt like they were meant to be with us.  They are doing well.  Despite our best efforts to close up the barn we planned to keep them in until they were tamer and knew our place was home, they managed to find a tiny crack in the foundation and then found their way in between the wall and siding.  After dismantling the wall and part of the foundation, we managed to catch them, and they are now living in an enclosed 3 story kitty condo I ordered.  They are getting tamer all the time and enjoy canned food, their toys and even being scratched and held. They know when breakfast or supper is close, you can actually hear them purring across the barn! They'll be able to have the full range of the barn once the wall and foundation are fixed.  It's been fun to see their personalities develop!
---
 Keep up the good "work" Beatrice and Patrice! At this rate you'll be "kitties of the month" in no time!