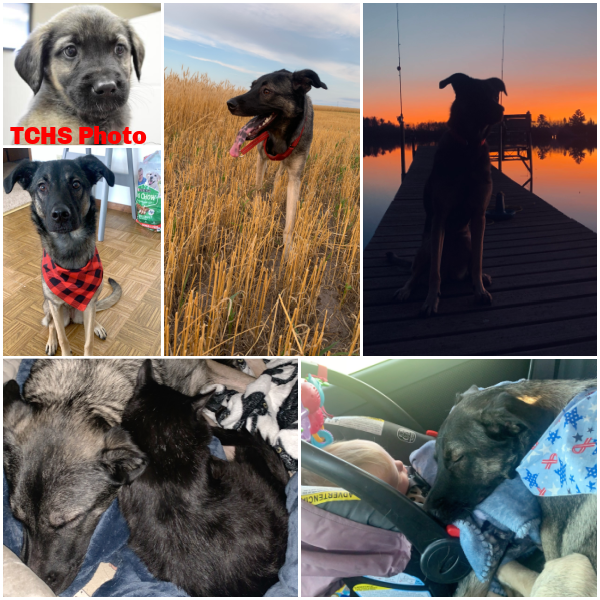 It's always wonderful to hear a success story from an adopter whose puppy has grown up to be a sweet dog! Such is the case with this story:
---
"We adopted a puppy from you guys way back in June of 2019. She was in a litter of 5-7.  She was given the name Lexi. We have since changed her name to Ava Mae. She is a fun-loving, full of energy, kid-loving, crazy girl. Her best friend is a three-legged wonky-eyed cat name Bear. Her tiny human gives her more treats than she could ever hope for. She loves chasing bunnies, squirrels, and even deer. She never catches them, though! She's a lover for sure. Belly/chest scratches are her weakness. She thinks everyone and everything wants to be her best friend. Her favorite person is definitely her daddy. She loves going to work with him. He's a custom harvester and LOVES running around the fields, sun up to sun down. She loves running around the snow snorting like a pig. Get her riled up and watch the zoomies kick in for a good 10-20 minutes." Ava Mae even learned some commands – and is pretty good when it comes to food. "She knows how to sit, stay, lay down, shake, roll over, and crawl. She can be trusted around food (unless it's on the ground because then it's a free for all), you can leave a snack on the bed and go to the bathroom and it'll still be there when you get back. She HATES being left behind. We take her everywhere we go (within reason)."
---
Hard to say who's the lucky one in this match-up! Happiness happened all the way around here – as it should be!