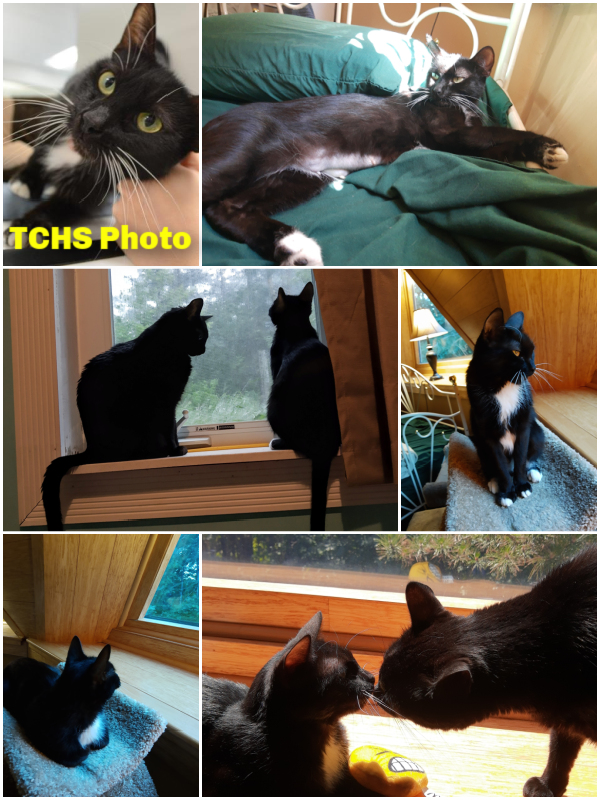 We at Tri-County Humane Society know that it's not only tough on us when our animal companions cross the Rainbow Bridge; it's tough on their animal siblings, too. So it's always nice to hear when a new addition to a home is welcomed by all members of the family, including those with four paws.
This adoption story is about a couple who adopted a cat named Rosalee in May 2021; the 2-year-old kitty came to us as a transfer from another facility. She only waited about a week for adoption; the couple who adopted the kitty they now affectionately call Rosalita were in part looking for a feline companion for their resident cat, Cash. Here's their story:
---
"When Sir Stinky Peter Pumpkinhead Esquire died, Cash took it very hard. Pete was kind of a father figure to him, and they cared for each other a lot. Now, with Rosalita, Cash has taken up Pete's mantle and has become something of a mentor for her. The two became friends very quickly."
"Rosalita went from being a skittish, shy cat to one who is extremely affectionate and playful, her human reports. Rosalita's favorite activities including chasing toy mice, string and plushies around the house, as well as playing 'tag' – and she tries to get everyone in on the act!"
"My husband and I are very proud cat parents, and it has been such a joy to see her blossom in our household. She is very affectionate and we enjoy her company. Rosalita is also very good about sharing the cat tower and toys with Cash, and likewise he's very protective of her. We can't wait to see her continue to grow with us as part of our family."
---
Have I mentioned lately what a great job we have at TCHS? Part of what makes it great are experiences like these: We get to be instrumental in the creation and growth of families. You should share in that feeling, because we can only do this because of the support of people like you.