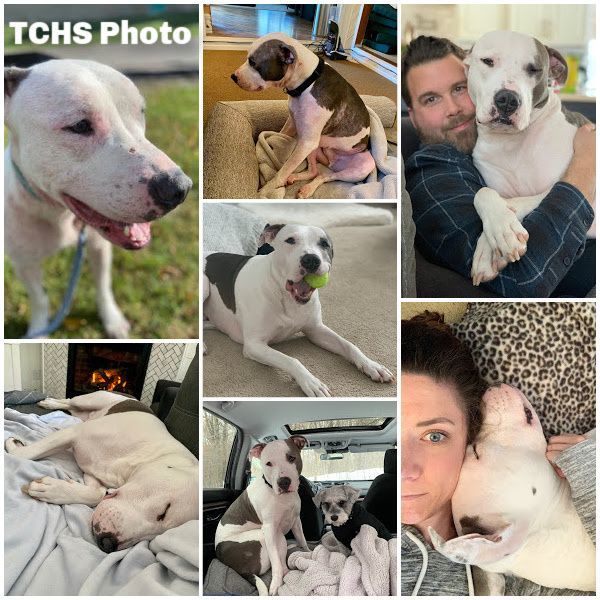 Most animals come to us in pretty good shape – happy and healthy. Others, such as this adoption story, need a little extra care. Brock came to TCHS in late September 2020 due to his health. The 3-year-old Pit Bull Terrier mix had allergies that would require regular veterinary care; some of his white fur was thinning and the skin underneath looked very pink and tender. TCHS' veterinary staff watched Brock carefully; he was started on a recovery path with medications and a special diet, and he received several medicated baths thanks to staff and volunteers. Brock then left the shelter and spent time in our Adoption Ambassadors foster home where he continued the long journey of recovery; he was adopted in mid-October. Here's the report from his new family:
---
"He has terrible allergies which had gotten out of control as well as double ear infections.  The first few months were miserable while we worked with our vet to get him comfortable. After a few months we got a treatment plan that worked in place, and his personality and confidence just blossomed! He also grew all of his pearly white fur back! He loves the dog park and running through the woods. We are excited for our first summer with him!"
---
You're a handsome looking dog Brock – keep working on becoming the dog you were always meant to be! Happy, loved, and allergy free!