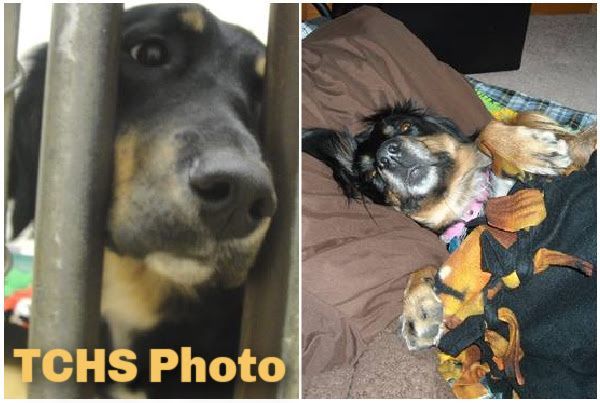 Some of the dogs we see at the shelter have some issues that only a kind and caring person with lots of patience will be able to help. The good news is those people often come to a shelter to adopt a dog that really needs them. Such was the case with Willow.  Here's her story:
---
Hello,
My family adopted "Willow" from your shelter in January 2016.
Our sweet shepherd Buffy was getting up in her years and we wanted to adopt a young dog for Buffy to "groom" for us.
We visited your shelter and Willow stole our hearts. She looked so afraid and sad that we just had to take her home.
She was afraid of everything and trusted no-one. She had some food aggression issues, distrust towards men, children and generally all strangers. She was just the project we could handle. Love, patience and a good role model (Buffy) turned our Willow into the incredible loyal family dog she is today. 
We now have two small children that Willow protects and plays with. She has learned that people are friends as long as they are invited into our home. She keeps watch over our barn cats and horses, alerting us to predators and fighting them off if necessary. Though she is small in size she wields as much strength as any German Shepherd by means of her huge heart.
We love her dearly and she was worth every moment of patience and love we gave her in the beginning. 
Her favorite hobbies are camping, running with "mama" and rolling over for belly rub.  Her favorite food is Milk Bones.
Someday we will be adopting another young rescue dog to be Willow's protege. No dog is replaceable, but the love from them seems equally as amazing, absolute and gratifying.
Theresa
---
How's that for a transformation?  Never ever underestimate the power of kindness and a few Milk Bones!
We're so grateful there are people out there who are willing to carry on the work we start in helping animals find their true selves.