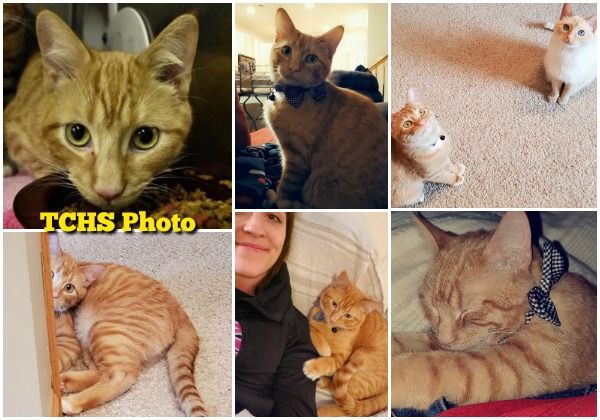 This story is about a kitty who not only got a new home and family, but a new dapper look! Nigel the kitten came in earlier this year. Like many cats and kittens when they first come in, he was a little shy. Knowing his paperwork reported that he liked kids, we knew it would only take getting him into a real home environment for his true colors and wonderful self to appear. Well, that turned out to be very true – he was adopted after about a week to a family that has a 3-year-old girl, who insisted that Nigel get a bowtie collar so he could look his best!
Nigel is very fond of his bowtie – and that's not all:
"He loves playing with whatever he finds laying around the house. His more timid big sister Bailey is just warming up to his silly antics, but for the most part just watches in wonder. At the end of the day, he is all snuggles and purrs as he climbs into bed with us. Thank you so much TCHS for introducing us, we love him so much!"
Lookin' suave, Nigel – congrats on your new life and family!