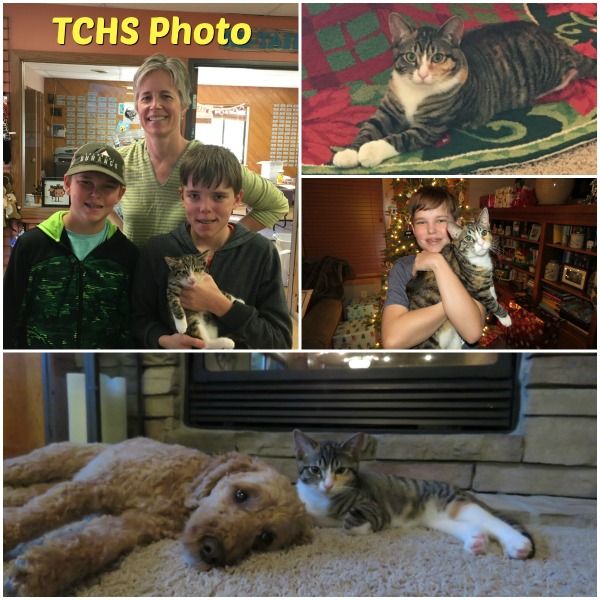 More often than you might think, Tri-County Humane Society adopters come from outside the St. Cloud area to find their new best friends. Such is the case with this story.
Maisy was adopted only five days into her stay at the shelter by a family from Wisconsin. Here's a report from her family:
"We came to Tri-County back in August from Hudson, WI. Our twins love animals and wanted to add a cat to our family.  We didn't know much about cats so we enlisted the help of their Aunt Kate (pictured with boys), who has been a volunteer at Tri-County. We visited the Kitty Korner and the main shelter. It was a fun afternoon of meeting all the wonderful cats you had! Maisy fit into our family right away. Penny, our Goldendoodle, and Maisy are great pals. They enjoy sleeping by the fire together. Maisy`s very favorite activity is to fetch Nerf Darts for the boys! She thinks the darts are the best 'toy' ever! Thank you for providing a safe temporary home for these animals while they wait for families to adopt them!"
Thank you to the Wisconsin family, including TCHS volunteer Aunt Kate, for helping  Maisy get a new home! She might look good in green and gold!