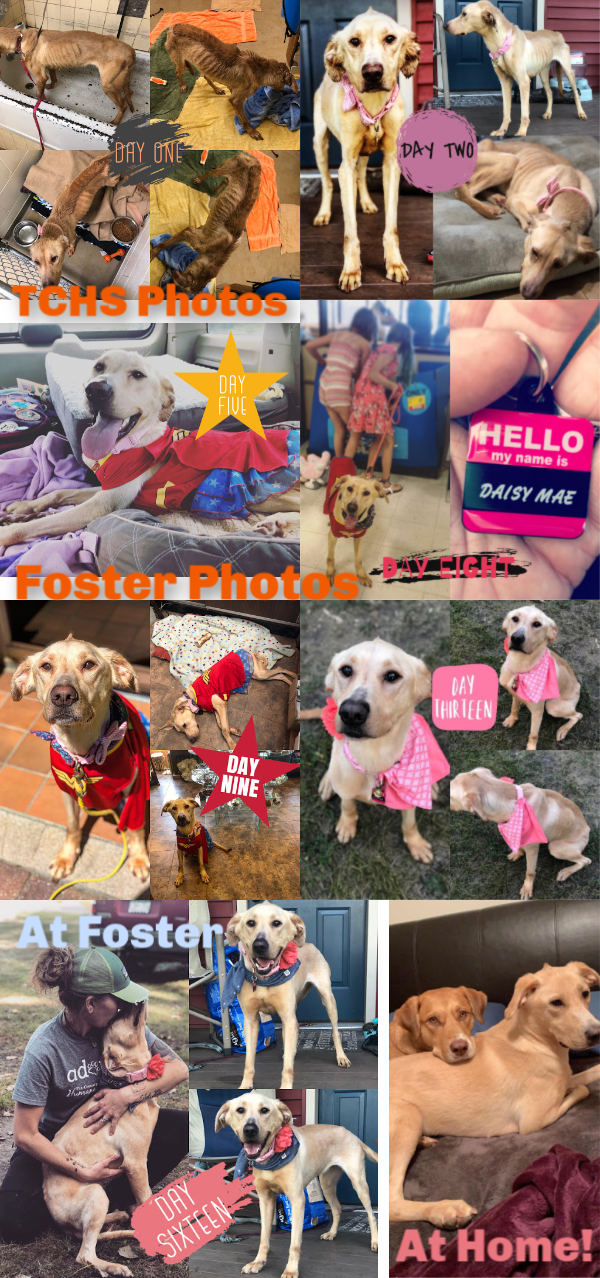 Many of the animals who come to Tri-County Humane Society are happy, healthy and ready to go to a new home.  But sometimes there's an animal who needs a little more of something beyond temporary shelter – they need some serious TLC. Such was the case for Daisy Mae, a 4-year-old Yellow Lab mix who came in this summer.
Daisy Mae was severely underweight at only 32 pounds. She was immediately put in foster care with a staff member, who introduced her to her resident dogs, gave her some food, gave her a name and lots of love. Daisy Mae ate everything with a passion, gaining 10 pounds in about 10 days. She loved the other dogs; her foster commented that everything was new to Daisy Mae, and she took in everything with a sense of wonder. Her foster mom got her a fancy name tag and dressed her in a Wonder Woman doggie costume so Daisy Mae could embrace her inner superhero. The pounds continued to pack on, and Daisy Mae learned new skills – like how to be a dog.
About a month later, she was back at the shelter where she was quickly adopted. A recent pup-date from her new home says that Daisy Mae is tipping the scales at 60 pounds, and she's best friends with her sister-dog, Ariel.
TCHS is so happy that Daisy Mae is living the good life – and want to thank to all the "Wonder Women" (and men) who foster animals who just need that little something extra to get ready for adoption! This is yet another example of how, with your help, we are able to do better for the animals!