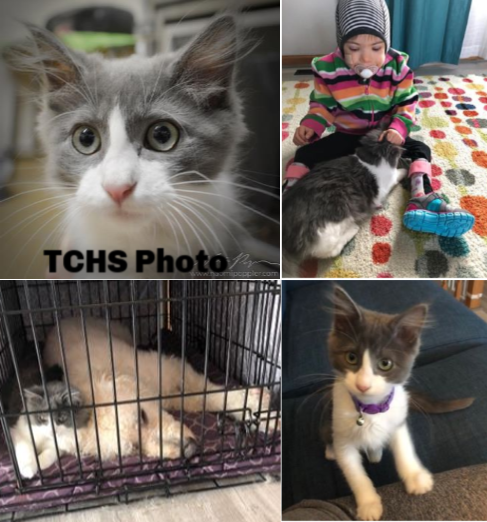 Tri-County Humane Society opened the Kitty Korner in mid-June, and we've since had reason to celebrate more than 200 adoptions from there! This story features one of those adoptions.
A kitten named June came in with her siblings because her owner couldn't find them homes. June arrived in early August, and went to her new home in late August. She's now known as Molly.
"We adopted her from Kitty Korner in August. She's a naughty, busy kitten with a heart of gold. All of our girls have special needs, and Maggie (pictured) is our most delayed. Not much interests her, but this week, she discovered Molly! Lots of giggles and smiles and clapping—and fewer self-injuring behaviors. Three cheers for Molly!"
Way to be a good family member Molly! She also loves cuddling with the resident dog, Fred.
A big paw-style salute to Jim and Brenda Feneis for letting us use the Kitty Korner space. Come visit the residents at Kitty Korner, 1715 1st St. South, St. Cloud. (It's on the corner of Washington Memorial Drive and Division Street.)