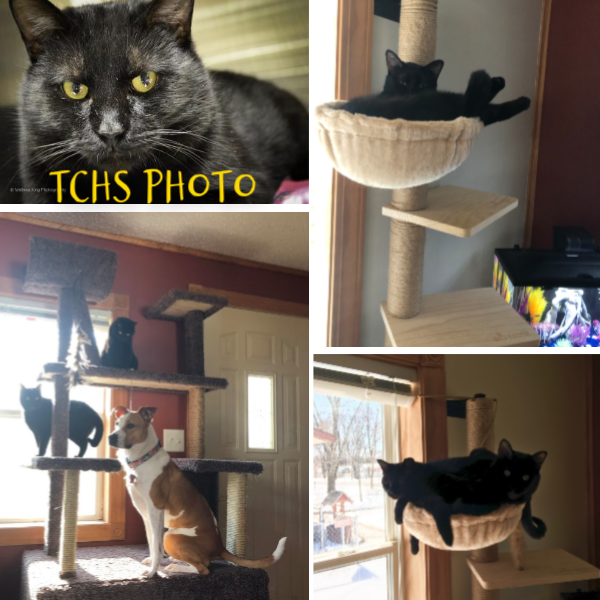 On January 8th of 2019, someone found a black cat that looked like he needed some help. They couldn't keep him, so they brought him to us. They were right, he had a host of medical concerns including but not limited to fleas, ear mites, broken teeth, and sores and swelling on his face.  We cleared his fleas and ear mites easily enough and then consulted with our veterinarian regarding his skin issues.  It took 3 months, a special hypoallergenic diet, a Prednisone regimen, and a lot of TLC for his symptoms to improve, get named Lewis,  and be cleared for adoption.  Lewis found his new family on March 31st of this year.  Here's an update from his family:
---
Hi all!
I would love to share an update on our sweet Lewis. I adopted Lewis on March 31st after he had a long 3 month stay with you guys. I was volunteering on Friday nights walking dogs at the time and very rarely spent time with the cats but Lewis caught my eye. I had joked about bringing Lewis home a few weeks before I actually did but when he was still there at the end of March I knew he should come home with us.
We brought him home completely ready to do a slow and proper introduction to our other pets (Leelo - another black cat and Ruby Tuesday an American Staffordshire mix)... but Lewis had other ideas. Within the first hour he was very loudly meowing in his bedroom and making other adorable - but very loud - noises. We decided to put up a baby gate so he could see us and he promptly jumped over it and made himself at home.
He is everyone's best friend and the most outgoing cat I have ever met. He loves cuddles with all of us - including Ruby Tuesday! He has so many silly cat antics including but not limited to: climbing on literally everything, doing random cat laps at all times of the day, and making extraordinarily strange noises.
We are still working on his random allergy break outs but with the help of prescription food and our amazing vet care we are getting through it. I have included some pictures of him at home.
Thank you so much for all of the love and care Lewis got at TCHS. We could not imagine life without our adventurous boy!
---
It's because of your generous support that we are able to save animals like Lewis. He is a shining example that Happiness Happens Here!