CALLING ALL SUPERHEROS to our 2020 Companion Walk for Animals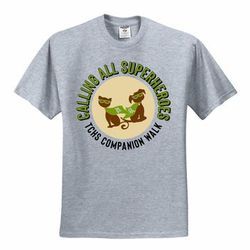 Compassion isn't cancelled – and neither was our 2020 Annual Companion Walk for Animals! Our donors and supporters stepped up and made our 2020 walk extremely successful!! We raised over 49,000 dollars for the animals of TCHS!! Thank you to everyone who participated!
As we continue to work together to overcome this challenging time, we have decided to make our Annual Companion Walk for animals a VIRTUAL experience, allowing us to stay connected in our commitment to help the animals of Central Minnesota.
What is a Virtual Walk?
A virtual walk means after you fundraise you get to walk on your own time and at your own pace! Suggested walk time is Saturday, September 12th @ 10:00am. Walk around the block with friends, in your backyard, or even on your treadmill. While we won't be walking side-by-side this year, our love for animals will continue to unite us!
Tag yourself in our Facebook Event for a chance to win prizes using the hashtags #stillwalkingforTCHS and making #stridesforanimals. 
This year's virtual theme is CALLING ALL SUPERHEROES! So grab your kids and pets and dress them in their favorite superhero costume for your walk. Post your pictures on our Facebook event and be entered to win prizes.