First Virtual Companion Walk Raises $52,000; Thank You To Our Supporters!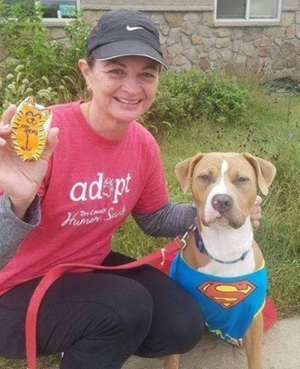 Compassion isn't cancelled – and neither was our 2020 Annual Companion Walk for Animals!
Tri-County Humane Society is proud to announce that our first virtual Companion Walk was a wonderful success! Although we were not able to walk together in person this year, you put on your superhero capes and worked to collect pledges, donated auction items, send donations, bid in our auction, posted photos and thoroughly supported our event!
Of special mention are these walkers/pledge collectors who each individually raised over $500 for animals: Vicki Davis, Tracey Worzala, Jan Hovda, Emily Bezdicek, Mary Burdick-Lynch, Central Minnesota Therapy Animal Association, Kali Guernsey, Colleen DeGroat, Jerry Kenning, Naomi Poppler, Emily Swanson, Sara Morales, Keri Hall, Jody Terhaar and Angie Koshiol.
Emily Bezdicek was our grand prize winner of the photography session and portrait from Country Gallery. These folks raised over $27,000 in pledges toward our total of $36,000 in pledges.
With our online auction raising almost $6,500 and additional sponsors/donations received, we raised more than $52,000 for the animals of TCHS!