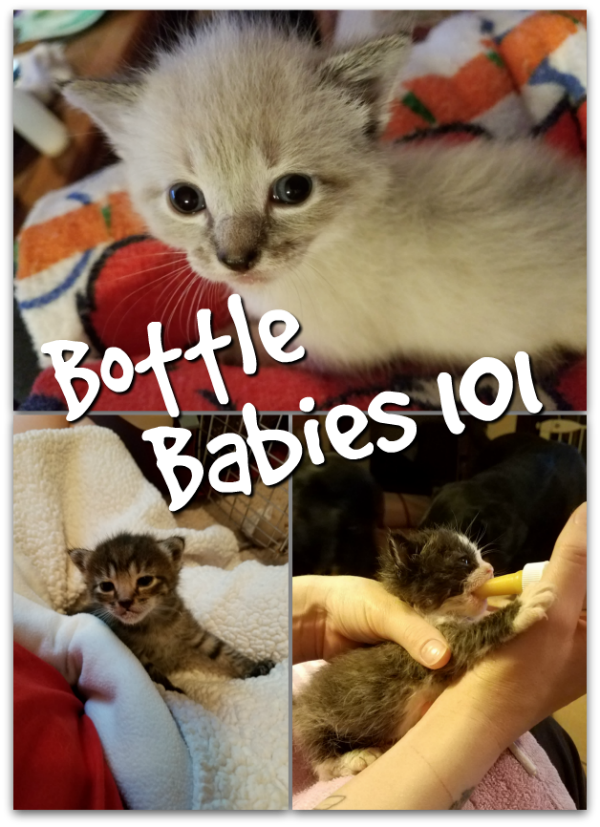 In 2020, the number one reason that an animal was sent to foster care was because they were too small or young for adoption. Kittens and puppies generally have to be 8 weeks old before they can be ready for their new homes.
What you need to know before committing to fostering bottle babies: 
They need to be fed every 2-6 hours (depending on age) around the clock - yes, even during the night. This means taking them with you if you're going to be away for feeding times.
Kittens need a warm environment until at least 5 weeks old when they can regulate their body temperatures. Heating pads are a necessity for neonates to keep them at an appropriate temperature.
You are responsible for stimulating them to urinate and defecate until they learn to use the litter box (3-5 weeks old). 
Neonatal kittens crash quickly when something is wrong. You know them best and should always be watching for abnormalities (ie. diarrhea, refusing to eat). It is important to act fast when something is wrong and contact Tri-County Humane Society right away.
Even when you do everything right, a human is not the same as their feline mom. Not all kittens will survive, even if everything is done right, and that is NEVER your fault.
Caring for a kitten from such a dependent, vulnerable age until they are fully developed, independent and ready for adoption creates an intense bond between yourself and the kitten. Remember that "goodbye is the goal" of fostering and even though it is hard to let them leave to join their new family, now you can save another life!
Supplies that TCHS always needs for our neonate program:
Electronic gram scale
Miracle Nipple Mini
PetAg 2oz Nurser Bottles
Small blender bottles 
High-quality kitten kibble and canned food